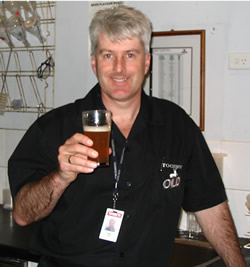 Peter David sampling his wares
Q: Peter, you are the Head Brewer of Tooheys, a company responsible for many major brands such as "Tooheys New", "Tooheys Old" and "Hahn Premium". Presumably as Head Brewer the final taste of any one of these beers consumed every day by millions of Australians falls with you. How do you cope with this responsibility?
A: We have a highly skilled and passionate team of brewers who are charged with this responsibility. Every day we taste our beers, from the wort leaving the brewhouse, the fermenting and maturing beer through to the finished product. By the time it is being enjoyed by our consumers the beer has been tasted and analysed at least 5 times.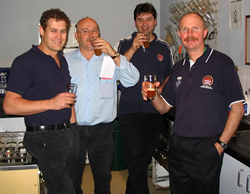 Sean, George, Paul and Derek at work!
Q: We would like to take this opportunity to ask you about some of Toohey's beers in detail. The highest profile of these beers is Tooheys New. Launched in 1931, we understand that it is the 2nd largest brand nationally. It is said that the beer is called "New" because it was introduced to distinguish it from "Old", which was the dark beer popular at the time. Is this the case?
A: From my research yes.
Q: The ironically American Fosters brothers arrived in 1887 and, as we understand it, spearheaded the change in our drinking habits from Stouts/Bitters/Ales to lagers. Was the introduction of New part of Toohey's response to this (some 50 years later)? Do you know if lagers were the dominant beer in the 20s or was the shift still occurring?

A:In the 1880's the Australian drinker wanted a locally brewed beer that could withstand the rigors of our climate - the lager revolution met this demand. German lagers were first imported around 1877 into New South Wales. Lighter flavoured ales were brewed in NSW from around 1915. By 1940 most Australian beer was of the lager style. The use of locally grown cane sugar in the late 1880's also provided a lighter and crisper attribute to the local brews.
Q: Tooheys Old, the dark ale, is one of the jewels in the Tooheys crown in our view. Introduced in 1869, it appears to still be popular with young and old alike, which is very unusual for a dark beer in Australia. Do you know if it actually is popular with the young or is it a declining market?
A: It is popular with all ages.
Q: Why isn't it advertised?
A: It has performed well by "word of mouth" advertising and has as some describe as a cult following.
Q: Was "Old" called "Old" before New was introduced or was it called something else? Do you know if the brewing process/ingredients for Old has changed much since 1869?
A: Yes, its name originating from the dark ale or ALT beer. In the 1970's Old had 80% share in the Hunter region, aligning with the Welsh heritage of the mining community. The process/ingredients have changed little aside from adopting the quality improvements that modern brewing practice provides.
Q: Do you think Queenslanders are more passionate about XXXX than New South Welshman are about New, or WAs about EB etc? Certainly New South Welshman seem to be more passionate about disliking XXXX as it is so strongly tied with Qld identity.
A: Tooheys New popularity has grown strongly over the last decade.
Q: From where we sit, Hahn Premium, which we understand Tooheys now brews rather than the smaller Malt-Shovel Brewery, is one of Australia's truly national beers. From Perth to Brisbane, you can get Hahn Premium on tap. And we must say it is a deliciously bitter beer, and we are enjoying its battle with Crown Lager for premium beer supremacy. Have you been surprised by the growth of this relative newcomer, especially across all our states, or was it expected?
A: Hahn Premium has captured many consumers interest due to the distinct aroma and flavour that results from the use of "Noble" or aromatic hops from Europe and adopting brewing techniques to produce a beer to the European Lager Style. In 2002, as Hahn Premium entered its 15th year as one of Australia's finest beers, brand sales are fast approaching 2 million cases reflecting the brand's ever increasing popularity. Due to the popularity Tooheys began brewing Hahn Premium a number of years ago, simply scaling up the brewing methods already developed ensuring the ingredients and standards of this great beer were maintained.
Q: We have noticed Tooheys lists the "Malt-Shovel" brands as their own on the Lion-Nathan website. We have been quite excited by the Malt-Shovel range as in all honesty Australians seem to have had a sometimes dull love of one particular regional lager (which one depending on your state). How do you feel about these old style beers making a comeback down under?
A: The brewing of India Pale Ale; Porter; Pilsener & Wheat beers is very exciting for both the consumer and brewers. It provides an opportunity for all beer lovers to taste a diverse range of flavours from a range of beer styles gathered from the global brewing world.
Q: Do you see the Malt-Shovel brand continuing to expand?
A: Yes, however keeping up with demand as the brands become more popular will always e a challenge.
Q: Any chance of Tooheys taking over brewing another Malt-Shovel brand (as it did with Hahn Premium)?
A: If a brand becomes so popular, to ensure supply meets demand then relocating the brewing to Tooheys would be evaluated.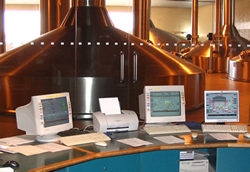 A modern Aussie brewing environment
Q: At least on paper, you have one of the best jobs in Australia. How do you spend your day, and, importantly, how does someone end up being the Head Brewer of Tooheys?
A: The day is a mix of over viewing the daily brewing operations, tasting (one of the most important tasks), helping and coaching the great team of brewers and planning for the future. Of course always looking for an opportunity to educate people about the joys of beer and living our company core purpose - making the world a more sociable place.
Q: I have to say this: Tooheys Red just isn't a beer I am fond of. What do you see as its selling points?
A: Red has a clean and malty flavour, is thirst quenching. It is a quality beer and great value for money. It is a key part of the Gold, Blue and Red family of value brands that has in recent times adopted "George" a Tooheys icon thanks links to over 100 years of brewing heritage.
Q: What's your favourite beer? Do you have a favourite non-Lion-Nation beer (ie best of the rest)?
A: Have many favourites, depends on the occasion, my fridge always has Hahn Premium; Tooheys New and JS Pilsner plus the occasional Little Creatures pale ale and Southwark Stout. Best of the rest, depends where and what I am doing, Old Peculiar in the UK brings back fond memories though.
Q: What's your favourite watering hole?
A: Again, not one favourite. The Wentworth Hotel which is near the brewery presents great beer in a shady beer garden, the recently opened JS Brewhouse on King St Warf in Darling Harbour has a great range of beers and full of beer culture, the Harbour View hotel overlooking Sydney Harbour bridge has a wonderful diversity of bars, beers and food, however there are many more great venues, I need to find the time to visit more often.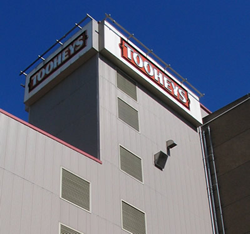 Where it all happens.... Lidcombe, Sydney