A Quiet Beer with Chuck Hahn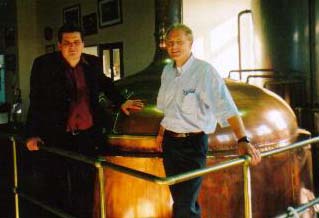 AustralianBeers.com's David Downie with Dr Chuck Hahn
Dr Charles (Chuck) Hahn, Director and Brewmaster, Malt Shovel Brewery, is Australia's highest profile brewer, and has been a force in Australian, New Zealand and American brewing for over 30 years. While not all Australians have had the opportunity to savour Chuck's latest offerings, delivered by way of our most exciting microbrewery - the Malt Shovel Brewery - almost all Australians would be familiar his earlier products, such as Hahn Premium and Hahn Ice. AustralianBeers.com recently had the privilege of spending some time in Chuck's world, including a personal tour of the Malt Shovel Brewery and attending a beer tasting dinner as his guest.
Chuck's background is impeccable. He has a PhD in Chemical Engineering, and worked with the American giant Coors for 10 years prior to being headhunted by Sydney's Tooth Breweries, where he was General Manager from 1983. During this time he oversaw the production of the then most sophisticated brewery in the southern hemisphere (worth some $100 million). With this under his belt Chuck crossed the Tasman to become technical manager for Lion Breweries, Auckland, New Zealand, where he "brewed Steinlager for a few years" - from 1984 through to 1987.
Chuck then followed his passion and established the Hahn Brewery, then Australia's largest microbrewery, in 1988. Chuck ran this venture for 5 years, with his main product, Hahn Premium, being well received by the beer savvy consumers of Sydney. Unfortunately, the Hahn Brewery was not immune from the 'recession we had to have' from 91-93, and struggled to cope with rising interest rates. Chuck tried to cut a deal with the Banks, to no avail. By all accounts the shareholders had little option but to sell to the Lion-Nathan Group when the opportunity arose in 1993, although Chuck now prefers "to think of it as a merger".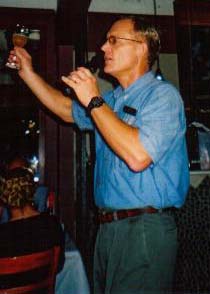 Chuck showing Australia how to 'taste a beer, not just drink it'
As it turns out it was a merger that would see the Hahn brand springboard nationally over the next decade. As part of the deal, Chuck was appointed Chief Brewer for the Lion Nathan Group - no small responsibility as the group then operated eight breweries in Australia and New Zealand and two in China. During this time the Hahn Brewery operated partially as Lion-Nathan's development shop, with Chuck's expert brewers helping to develop new beers for Lion Nathan under Chuck's guidance. The most successful of these beers are now mass produced in other locations.
It was in 1998 that Chuck returned to his boutique brewery interests with the launch of the Malt-Shovel Brewery and a goal of producing handcrafted quality beers. While the brewery is still associated with Lion-Nathan, you get the sense that it gives Chuck more freedom to focus on the development of more adventurous, higher quality beers than might otherwise be possible as the Chief Brewer of a major group. At the same time however, the Lion-Nathan association has certainly allowed Chuck to tap into the distribution chain that might otherwise not have been available.
The Malt-Shovel Brewery operates out of the old Hahn Brewery site in Camperdown, and is named after the pub owned by James Squire. James was of course, Australia's first brewer, and MSB's primary beers are marketed under the Squire name. See our history section for more information on James.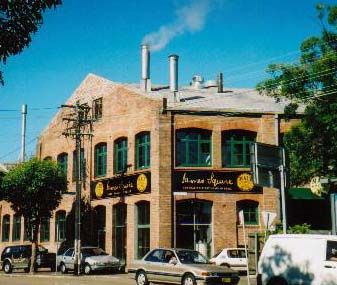 The Malt Shovel Brewery, Camperdown, Sydney
It was in the brewery that we got to meet Chuck and talk to him about all things beer. Our first observation was how friendly and down to earth Chuck is - completely lacking in pretension. Our second observation was how passionate he is about his beer, and beer in general. We were not dealing with a person who was making money to pay off a mortgage. No, Chuck's passion is evident. Over the time we spent with him he seemed to be personally working day and night, despite his success. During our tour of the brewery he noticed one of the readings on a German Copper kettle (built in 1952) was not what he expected (presumably for that time of day for that batch). "Who's looking after this?", he called out. "Could someone have a look at that this?". He apologised, and then kept on showing us around. How many brewery heads would pay that much attention to a single batch, we thought.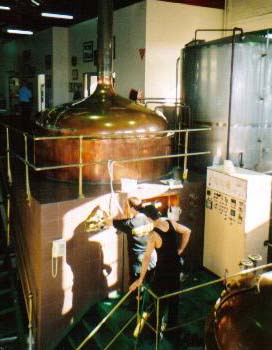 Brewers at work
As Chuck explained to us on our tour (although it was self evident), the brewery itself is small. In fact, we were somewhat amazed that this little place, with only 11 full time staff, managed to produce all the quality beer it did. Raw products come in one end, and the single most exciting range of beers to be produced by the one Australian brewhouse comes out the other. Right there, in bottles or in kegs, with 11 people making it happen. Exhilarating.
It was then we were lucky to be introduced to quite a few of Chuck's highly skilled brewers as we sampled the Squires Range....

Chat about this on our message board.
Take a break from drinking like the author of this article did - Read why and how in his book Between Drinks: Escape the Routine, Take Control and Join the Clear Thinkers