James Squire Porter
Elusive, shadowy, dark...porter exercises a fascination over all beer lovers.

Michael Jackson author of The World Guide to Beer, Ultimate Beer and Pocket Guide to Beer
James Squire Porter is the dark horse in the Malt Shovel Brewery beer range. It presents with an opaque dark colour with hints of rich browns and reds with an initial soft creamy head that purveys a pleasant malty aroma. First taste shows mouth feel that is not as smooth as its stouter sibling style but gives way to familiar roasted barley flavours and a powerful hoppy bitterness. Like all the Malt Shovel range this beer is well balanced and extremely enjoyable. It will leave you smacking your lips trying to soak up every drop of malty flavour. Try and drink this beer slowly as it should be savoured and not guzzled - otherwise you will miss the hidden meaning. James Squire Porter keeps alive the traditions of the porter which do not have the heavy and complicated characteristics of some stouts on the market. This means you are allowed to have a couple more after dinner than usual!

The porter is half way between our amber ale and a real stout in flavour complexity. It is not as thick and viscous as a stout, not quite as black, and has more chocolate/roasted coffee notes rather than harsh burnt smokey finishes.

Chuck Hahn, Director and Brewmaster, Malt-Shovel Brewery

James Squire Porter won two silver medals and a top-in-class award at the recent 2002 Australian International Beer Awards in Melbourne.

5.0 % alc/vol
Food For Thought:
It goes without saying that James Squire Porter is a great after dinner companion. Its rich malt chocolate flavours lend well to a match with chocolate cake and creamy dishes. In the summer months it would accompany dried fruits and cheese platters. Lets also not forget the traditional companion of the porter and stout, oysters. Sean Symons, Malt Shovel Brewer, says James Squire "Porter and oysters run a close second as an all round combination" for a beer and food match. This beer is also uncomplicated enough to enjoy with strong beef dishes such as porterhouse steak or a traditional beef pie.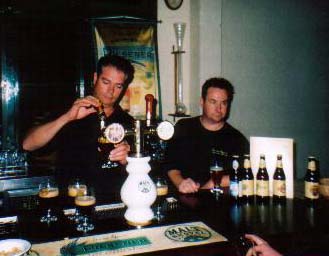 Doug Donelan - Head Brewer, Malt Shovel Brewery, pouring some Porters
A Brief History of Porter:
The porter style of beer is said to be invented by London brewer Ralph Harwood, who grew tired of making the popular drink Three Heads. Three Heads was a combination of three traditional ales the nature of which is still being debated. The new style was brewed with more hops which helped with stability and longevity. The brew was matured in vast vats for up to six months. Only the large brewers such as Barclay, Truman and Whitbread could afford to build the expensive plants needed to produce beer on such a large scale and also outlay the capital in maturing beer. Porter became very successful and was widely distributed and exported. Guinness in Dublin followed the trend and began brewing its own porter. Sales declined in the 19th century when the paler ales became more popular with only the stronger or "stouter" ales surviving. In the Baltic countries strong porters are still produced based on the export beers. Other microbreweries are also staring to revive the tradition in the UK, North America and of course Australia. It must be remembered that the porter was not a boutique beer but in fact the first mass produced brew.
Take a break from drinking like the author of this article did - Read why and how in his book Between Drinks: Escape the Routine, Take Control and Join the Clear Thinkers