Q: First off, how does it feel to be Australia's only celebrity brewer?
A: I think the Coopers are the real celebrity brewers as they have been promoting flavoursome ales for many years. I am a relative newcomer on the scene, having arrived in Australia in 1981 with Tooth's Brewery, then a couple years in NZ with Steinlager, before returning in 1987/88 to build the Hahn Brewery, followed recently with the James Squire's brews. I guess in this industry you know you have made it, when you can see your name in the gutter or in the glass bottle-recycling bin. We certainly made the big brewers pull up their socks when we launched Hahn Premium in 1988. Now we see new more flavoursome beers all the time.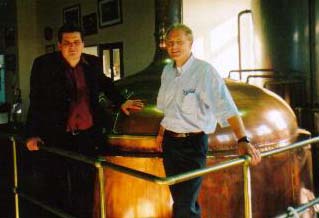 Q: Could you tell us something about the culture of the Malt-Shovel Brewery - what in your view distinguishes it from a larger brew house such as, for example, the Fourex Brewery in Brisbane?
A: MSB is all about brewing traditional style beers, rich in flavour and fresh to the market. We have a group of highly skilled passionate brewers, who love beers and evangelise this to the rest of the world. We only brew beers that we enjoy drinking; and whatever is left over we try to sell. With a brew size under 6,000 litres, our brews are indeed handcrafted and personally tasted at every stage of the process.
Q: We understand Malt-Shovel's first beer to be released was the "James Squire Amber Ale", which we have to say is absolutely magnificent, and should be on tap in every pub Australia wide. Why did you choose this particular style of beer to re-launch your boutique brewery?
A: The English brown ale is a style that James Squire would have brewed in Australia in the early 1800's. It perhaps would have been a lot thicker and definitely unfiltered, so we have modified this style just slightly. With a rich coppery colour, a distinctive creamy head and a crystal malt character with a slight citrus hop finish, it is a wonderful drinkable ale without being too challenging for the average drinker. We can "win them over" with this ale and get them to then try the others!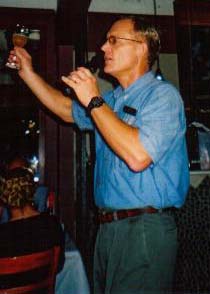 Q: Obviously Malt-Shovel is banking on a change in Australian drinking habits. Twenty years ago it would have been fair to say that Australians only really drank lagers (and Toohey's Old and the odd stout), and the lager you drank depended on the state you lived in. And above all things, the beer had to be cold - so much so that in some cases you couldn't really taste anything in particular. But you drank the beers in great quantities, and so it didn't really matter. Do you think there will be a national shift to taste, and, dare we say it, quality? We have seen this in certain Sydney circles, but do you expect to see the day when you can walk into an outback pub and witness a couple of Cockies slowly savouring Squires beers and commenting to each other on the complexities of the flavours?
A: We are slowly getting more drinkers to actually "taste the beer" and to select quality over quantity. But it is a slow process. In Australia, with our hot climate, we have always consumed beer in quantity and mainly for refreshment. There is nothing wrong with that, and nothing is better on a hot day than an icy cold drinkable lager. We are just trying to add another dimension to beer enjoyment -- savour the flavour complexities, enjoy it with food, allow it to complement some fine food styles (more than just a meat pie and a six pack). We are getting there; even many women are beginning to enjoy beers. Our objective to get people to enjoy more beer(s). Different styles on more and different occasions.
Q: Could you help us explain what distinguishes a Porter, such as the James Squire porter, from a general stout, such as the Cascade Special Stout?
A: As shown on our "James Squire Guide to Enjoying Beers", the porter is half way between our amber ale and a real stout in flavour complexity. It is not as thick and viscous as a stout, not quite as black, and has more chocolate/roasted coffee notes rather than harsh burnt smokey finishes. Alcohol is a realistic 5%.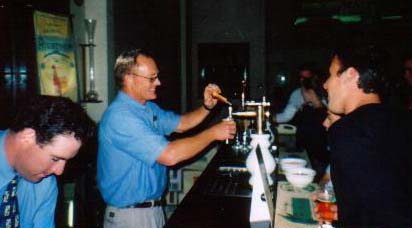 Q: So far MSB has released the Amber Ale, the Pilsener, the Porter, the IPA and the Australian White Beer. Do you have any further beer types planned?
A: Yes. We have currently a good range with the four traditional beers. However, we are working on some Limited Release Specials and some Brewmaster Specials. All brewed to keep up the interest in unique beers.
Q: Generally, we know that you are involved in a lot of tastings and promotions - you seem to personally work very hard interacting with the market. How do you keep it up? Presumably after all of your success you could scale this down if you wished. Do you enjoy this aspect of your work?
A: I enjoy beer, and beer has been my life employment for the last 31 years. There is a certain magic about beer and the social atmosphere that evolves with the consumption of such. The tasting of beer involves both personal satisfaction and social interaction – what could be better.
Q: It is not well known that the Fosters brothers, who first arrived in Australia in 1887, were American. Fosters is now sold throughout the world as "Australian for Beer". Is history repeating itself with your work and beers down-under?
A: The Foster brothers arrived into Melbourne from New York in 1888 and introduced refrigeration and lager brewing into Australia. Unfortunately, their brewery was unsuccessful and they returned to NY two years later. The brewery continued to operate without them.
I am also originally from NY, although I used to call Colorado home. I arrived in Australia in 1981, then went to NZ after a couple years, and returned to start up the Hahn Brewery in 1988 (100 years after Fosters). However, I am still here brewing quality beers, have married an Australian and we call Australia home.
James Squire arrived in Australia as a convict on the First Fleet in 1788 (100 years before Fosters). He became Australia's first brewer when he started brewing in 1794. We have resurrected his beers with the Malt Shovel Brewery in 1998.
All interesting time coincidences. Where Fosters introduced lager brewing to Australia, we have been attempting to introduce more beer culture and beer sophistication to the beer connoisseurs.

Q: Do you have any feedback on our work on the AustralianBeers.com website?
A: I fully support all avenues that promote beer as an interesting beverage for enjoyment with more than just the usual refreshment value. You guys share a passion for beers and I would wish to encourage that as much as possible.
Q: If you don't mind us asking, what's your favourite beer and pub?
A: James Squire Pilsener. Nags Head Hotel in Glebe and the Australian Hotel in the Rocks.
A special thanks to Chuck for his time and for permitting us to reproduce the Malt Shovel images that can be found on this site. The Malt-Shovel site is www.malt-shovel.com.au.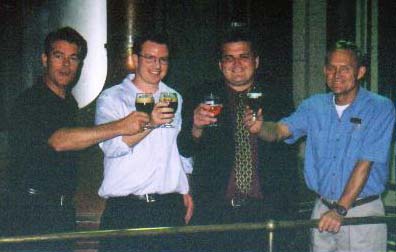 Cheers!