George IV Inn - Picton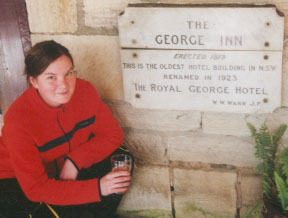 "The oldest Hotel Building in N.S.W"
As part of our incessant quest for variety and adventure, one of reviewers was wandering around the historic Rocks region of Sydney one summer afternoon when he spotted some Aussies basking in the sun by the side of the road, laughing about something as they drank beer and ate pizza.
He had to investigate.
Two hours later, with his belly full of pizza and a glint in his eye, the reviewer was wandering back into this ripper of a pub, 'The Australian', when he noticed something out of the ordinary. The usual tap beers were complemented with two unusual additions: 'Sharers Lager' and 'Burragorang Bock'. Instantly his professional duty took over, and he ordered one of each, lips watering as the schooners slowly filled. The first was light, and slightly cloudy. The second as dark as an English day. He trembled with anticipation.
The cool fruity taste of the first slid over his pizza greased lips. It was light, smooth and distinctively hoppy. "You beauty", he exclaimed as he took another sip for good measure. He reached for the second beer while bemused spectators looked on. Tastes mingled in his mouth as this beer washed away remnants of the first before imposing its own rich textures and delights. It was a traditional malt, by all measures, with a coffee push. It was a strong beer. Definitely worthy.
"Who made these beers?", he demanded. "Where are they from?". The barman, momentarily diverting his eyes from the young darlings who were approaching the bar, smiled a knowing smile. "Mate, they are made in Picton. King George IV is a pub there, and it brews its own beer". His eyes returned to easier views. But the reviewer had his lead.
Two weeks later, AustralianBeers.com sent a three man expedition to the small town of Picton to see who had managed to hide these beers from us for so long. The 100km drive from Sydney was uneventful, with the exception of the wombat on the side of the road. A big bugger. Friendly looking. But unfortunately very dead. We shook our fists at the passing traffic, reflected on the ways of the world, and vowed to have a few for 'Wally' if nothing else.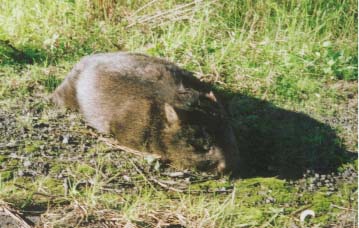 Wally
An hour later we were doing just that. It was easy enough to find the pub, Picton doesn't have very many, and George IV is right by the main road. We were immediately struck by two things: the old look of the place, and the large number of Harleys and other bikes out the front. What were we getting ourselves into.
A schooner for starters. The Sharers Lager. And didn't it go down a treat in the Aussie sun at the front of the pub.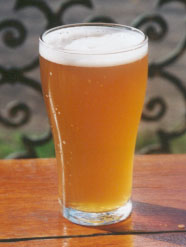 Ahh yes... Sharers Lager
After our stress levels reduced somewhat, we wandered in for a bit of a look around. We were impressed at the main bar. Many people, most obviously locals, were happily sitting around drinking what must have been either the light or dark beer: there were no other brands on tap! One local in particular caught our eye. She was sitting at the bar, by herself, with a mischievous grin on her face. Excellent, we thought.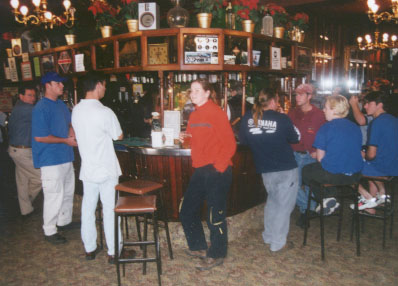 The Main Bar - George IV, Picton
We strolled up, casual like, and said G'day. G'day she replied, in the Australian way, as she sipped her own lager. "Waddya you blokes doing here". Was it that obvious? We decided that honesty was the best policy, and we asked if she could give us a bit of a tour. For Wally. She obliged, and started telling us a bit about the place. It was old, one of the oldest pubs in Australia. It first opened its doors in 1839, and was a favourite wayside for travellers from Sydney. There were stables around the back and you were welcome to stay the night. It was, to be frank, the centrepiece of the town. Everyone drank there.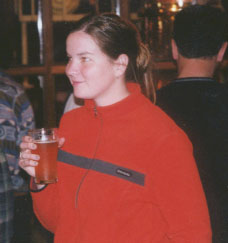 Dreams of Sydney...
She herself worked as a farm hand down the road. A country girl, she was slightly excited when we said we had come all the way from Sydney. "Sydney!" , she cried. "I've always wanted to go there!". "It's pretty scary", we replied, "If you do go, you'd better give us a call so we can look after you". She nodded with wide eyes, as we reflected sombrely on all the Sydney crime. We were still reflecting when she offered to show us where the beer, which was the trigger for this Picton adventure, was brewed. We accepted gratefully, although it wasn't very far as it turns out: just next to the bar.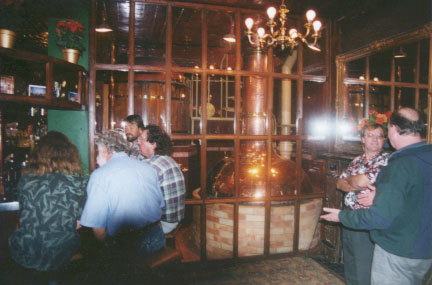 Brewery with grateful drinkers
"So what's the story", we demanded. "Why is it this pub brews its own beer, and refuses to sell any other?". Her eyes darkened, as though she was about to say something profound. She didn't, and so we asked the old bloke sitting next to her at the bar. Apparently the hero of this little story is Geoffrey Sharer, who was granted the first Australian licence to operate a small pub brewery in 1981. The brewery started operating out of George IV in 1987, and is brewed in the traditional Bavarian way. Telling this tale exhausted the teller, and so we left the old bloke to his Bock, and wandered further out in the courtyard.
It was a cracker. Heaps of sunlit tables, and a lady serving roasts for a reasonable price. We queued for a while (some advice: your ordering system is a bottleneck) and sat down to a pleasant afternoon of drinking.
All in all, a bloody ripper. Whenever visiting or driving around Sydney, be sure if at all possible to take the Picton turnoff to visit the old George IV.
And don't forget to have a Bock for Wally.
Take a break from drinking like the author of this article did - Read why and how in his book Between Drinks: Escape the Routine, Take Control and Join the Clear Thinkers