The Malt Shovel Brewers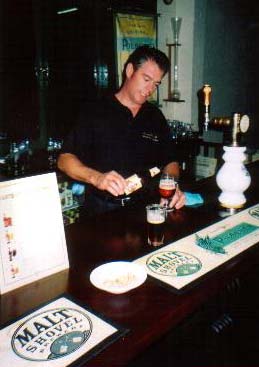 Doug Donelan - Head Brewer, Malt Shovel Brewery
The first of Chuck's brewing team we were fortunate to be introduced to was Doug Donelan, Malt Shovel's Head Brewer (cf Chuck, whose title is Brewmaster). Doug walked us over to the little bar that is in the centre of the small Malt Shovel Brewery, and pulled out two bottles of what we suspect to be the beer he is most proud of: the Squire Pilsner. He then poured us each a Pilsner in a special MSB glass, as well as one for himself.
"Cheers", he said.
"Cheers", we replied, a little nervously, and, after swirling the beer around in its glass and taking in its odours, slowly drank a generous mouthful, and savoured its distinct flavour. Doug watched silently, and appeared to be waiting for some sort of intelligent analysis. When that wasn't forthcoming, we each took another sip and started chatting. A cautious man, Doug said that he had been brewing with Chuck since the "early days". After the "merger", the MSB became a bit of an R&D shop for Lion-Nathan, and Doug had developed a large number of major beers during this time. Hahn Premium. Hahn Premium Light. The ice beers. And so on. Of course, he was also a primary developer of the MSB's James Squire range of beers as well.
Clearly we were dealing with a very experienced brewer who was, in part, responsible for the taste and complexities of a good number of prominent beers consumed every day down under. The only difference was they didn't have his name on them. We asked him if he enjoyed his job.
"Of course I do", he said. "If you don't enjoy it, then what's the point?"
We pondered this as we further imbibed our golden pilsner. While we did this Doug explained how the whole MSB philosophy revolved around beer being promoted, and enjoyed, as a quality product. They were doing what they could to move away from the traditional aussie image of beer being consumed with little regard to flavour in high volumes and with bad manners. No, beer should be savoured, including with meals, and should be promoted as the sophisticated, up-market product that it is.
And his advice to young people?
"Travel, travel, travel....". Presumably while savouring different beers around the world.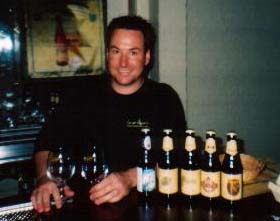 Dean McLeod, Brewer
One young person who had travelled all the way to the brewery was Dean McLeod, another MSB Brewer, who took us on a tour before pouring us some more drinks. Although by now it was close to 8.00pm, Dean had been working since 5.00 that morning. He was tired but happy, as they say, and poured himself a drink for good measure. His story?
I was blown away by the original Hahn Premium when I returned to Australia in 1989. Since then, I had always dreamed of one day brewing with Chuck Hahn. In 1994 I decided to make it happen.
Eight years later and he was still going strong.
There seemed to be a theme with the people we were meeting. First, like Chuck, they seemed to have a genuine passion about brewing beer. Second, once they joined the team, they seemed to stay forever. We asked Chuck about this. "This place is beer mecca", he said. "The people around here love what they do, and get to do things here they couldn't do in a large brewery".
It was then a slightly wild looking bloke wandered up to the barrel we were drinking at and introduced himself. Robert Freshwater was his name, and as it turns out he was also a brewer at MSB - although in his case his title was Senior Brewer. Not that he let that get to his head. Like all the other staff, including Chuck, he was friendly, down to earth, and just having one of his beers at the end of a day at work.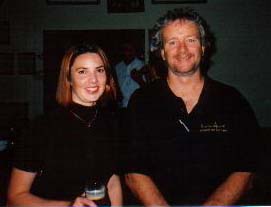 Robert Freshwater, Senior Brewer, with a fan
We were having a laugh with Robert as he spoke about how he had managed to join the Hahn Brewing team after winning the Hahn Trophy for home brewing in 1991. He doesn't home brew now, he said, he does it for a living. And not cooped up in little glass cages facing 2 million litres of VB being brewed by computers on a massive floor. No, he and his peers were brewers in the traditional sense of the word, as Robert explained:
Australia is only recently becoming aware that there are more beers and beer styles around than just the mainstream lagers. This is where Chuck Hahn and the rest of us at MSB fit in - using our passion and expertise to develop beers with style and character.
Indeed.
It was after this that were able to sit down and talk directly with the most famous brewer of them all: Dr Chuck Hahn.

Chat about this on our message board.