VB - Victoria Bitter
Crow, fuelled by VB, is said to have bailed up and harangued the producer of the BBC live broadcast... Crow had been swigging cans of VB during the awards ceremony, where he sat next to his girlfriend Danielle Spencer.

Why a cut Russell sought potetic justice, The Daily Telegraph, 27 Feb 2002

VB's the leading full strength beer in NSW, Queensland and Victoria... The beer consuming public that loves cricket knows who is fair dinkum.

Carlton & United Spokesman, David Park, Truth First Casualty in Beer War, Daily Telegraph, Feb 2002

The party marked the second time Burrell, 49, has been charged with murder. And as he remained holed up with his sister, neighbours came and went for what seemed like an all-night celebration. Some carried in slabs of Victoria Bitter - the accused murderer's favourite drop - and others staggered out later, a little the worse for wear... A group of inebriated young people returned home to the street and yelled at cameramen: "Go away and leave him alone" - before turning back to the house and screaming out: "Tell us where the bodies are buried, Bruce!"

Bruce, his sister, some beer... and the cops, Sydney Morning Herald, 22 September 2002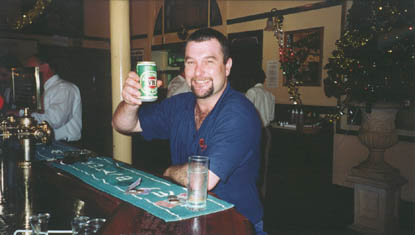 Cheers! A bloke enjoying an icy VB in Perth, Western Australia
Victoria Bitter or more commonly known as VB is the only mainstream beer to successfully penetrate across Australia's culturally entrenched state beer obsession. It can be seen on tap from outback Western Australia, to old Sydney town and the Northern Territory. But perhaps the extent of its success is perhaps best emphasised in Queensland where XXXX once completely ruled the state's beer drinkers. Nowadays, you would be hard pressed to find a Queensland pub that did not have both XXXX and VB on tap for all to enjoy.
It is of great credit to Carlton & United (CUB) that VB is now the top selling beer in Australia, accounting for a quarter of the total beer market and 60% of CUB's output. It is the most popular beer in New South Wales, Northern Territory, Victoria and the Australian Capital Territory.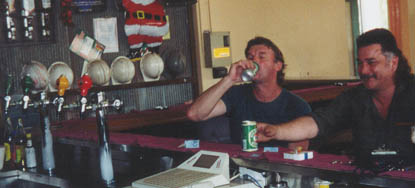 Rough as guts miners enjoying their VBs in Outback Western Australia
But why has VB been able to cross the great state divides? AustralianBeers.com believes the answer is threefold.
First, VB is a crisp, easy to drink beer which, when chilled, is perfectly suited to occasions such as the famous Aussie Barbie. It is a pleasant, easy to drink, bitter lager which many claim has a fruity aroma (although AustralianBeers.com experts are still debating this issue).
Second, Victoria Bitter is cheap. A carton of VB is usually one of the cheapest options in any bottle shop.
Third, and arguably the most important, CUB has run very successful VB advertising campaigns which target the heart of Australian culture. Ads for VB depict shearers, jackaroos, truck drivers and other working class Australians engaged in hard yakka. You would difficulty finding an Australian male who could not recite extracts from the long running prose used as a voice over on the Victoria Bitter ads. Lines such as, "A hard earned thirst needs a big cold beer, and the best cold beer's VIC" and the other literary masterpiece, "You can get it any old how, Matter o' fact, I got it now", have for years formed the backbone of CUB's successful advertising campaigns.
He [Jerry O'Connell] visited a pub near Circular Quay, had three Victoria Bitters, took his clothes off, climbed on top of the bar and danced to the Macarena. "Usually I'm good for about, I'm not going to kid you, about eight to 10 beers a night in the US," said an embarrassed O'Connell, who met with AAP in a Los Angeles hotel recently to discuss his new film Kangaroo Jack. "But I had my third VB and I don't really remember much of the evening. "The next morning I was like 'I can't believe it. I've been in Australia one night and someone dropped something in my drink. That's not right'. "But I spoke to some Aussies and they said 'No, man, the beer is twice as powerful in Australia than the States'."

Hollywood star's big night out in Sydney, Sydney Morning Herald, March 7 2003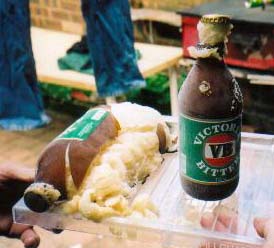 Getting the beer 'icy cold' is a fine line and should be left to experts
VB was first produced in the 1890s. The product is now sold in nearly every imaginable format – cans, stubbies (375ml bottles), throw downs or hand grenades in NSW (250ml bottles), long necks (750ml bottles) and even plastic cups at sporting events and university functions. It is also sold in the United Kingdom as "Victoria Beer ". The name change from Victoria Bitter was necessary as the beer is a lager and not a true bitter in the technical sense (there is little distinction between a bitter and a lager in Australia and the names are often used interchangeably). It is interesting to note that the beer is little known outside of Australia where beers such as Fosters and XXXX carry the Australian flag.
Throughout the series, the Barmy Army dug up enough goodwill to cheer the game, win or lose. But for most Aussie blokes, it seemed that a loss to the Poms took on tragic proportions, tantamount to pouring a supertanker of VB into Sydney Harbour.
Learning Dignity in Defeat, Sunday Telegraph, 12 January 2003
It is also of interest to note that VB is often a popular choice for Australian females who enjoy a beer. Although no beer advertising in Australia directly targets the growing female beer market, CUB admits that VB appeals to women because of its not too bitter, easy to drink, lager style.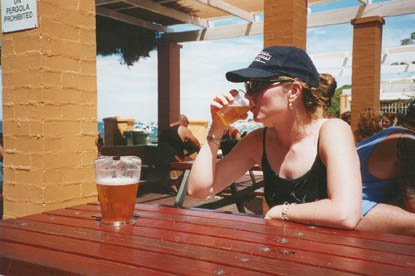 A woman enjoying a jug of VB on Rotto, Western Australia
Soon after Bana left, they all started "bagging him out," Rayner, 31, from Castle Hill, told Confidential. "He's this big movie star and he didn't even slip us a 50 or anything."
But his opinion changed when Bana returned on Tuesday with a case of VB. " We were standing out the front having a smoko, and he drove up and gave us the beers," he said.
Bana's wallet drama, The Daily Telegraph, Jan 30 2004
TEN years ago the bars of most Queensland pubs were propped up by drinkers sucking on a Fourex heavy, frowning at any southerners who had the audacity to order a Victoria Bitter beverage. The brewing landscape has changed dramatically over the decade. VB now accounts for about 60 per cent of all heavy beer sold in the state.

Today's sophisticated palates mix their drinks, The Courier Mail, 22 May 2005

News Limited on Wednesday reported the alcohol content of the iconic Melbourne-brewed beer would be cut from 4.9 per cent to 4.8 per cent to cut the amount of excise Foster's pays on the beer it brews. Foster's spokesman Ben Wicks said the change would not affect the taste of the beer. "It certainly doesn't affect the taste, which is very important to our VB drinkers. The taste will stay exactly the same. Our master brewers have done a lot of work to make sure of that," he told News Limited.

Weaker VB to save brewer millions in tax, Sydney Morning Herald, 4 July 2007

A GENERATION of drinkers think of only one thing if they've got a "hard-earned thirst" but does a hankering for a VB make you a bogan?

Thirsty for sales, VB is changing its image, News.com.au, 13 January 2010
Note to expats: we do not know where you can obtain VB in America or the UK or anywhere else. Sorry!
Check out http://www.ipetitions.com/petition/VBtotheUSA/ if you want to try and get VB imported into the USA.
Take a break from drinking like the author of this article did - Read why and how in his book Between Drinks: Escape the Routine, Take Control and Join the Clear Thinkers