Ordering Beer
There are many facets that the modern ale connoisseur must consider when enjoying beer. One perplexing aspect of beer drinking is the number of different receptacles that beer can come in. When moving around Australia it can become quite confusing as to how to get the size of beer you want. Ordering a pot of beer in one state can mean a totally different thing in another. Thus it is wise to take note of the state you are drinking in and study the terminology.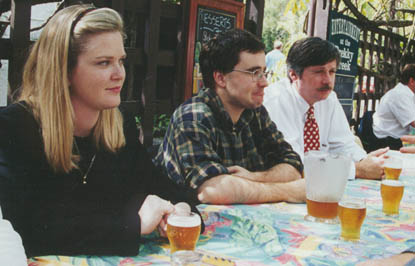 Queenslanders enjoying their pots...
Below is an easy guide to follow when drinking around Australia. You will find that terminology even varies in some pubs and clubs around each state. For instance the popularity of themed clubs means that a pint of XXXX can be enjoyed in an Irish pub in Brisbane. It is even said that in some establishments you can order a bucket of beer. This is, of course, not the best way to enjoy your beer and is frowned upon in polite circles. However, these are exceptions and likely to confuse. Until you become experienced, stick to the guide.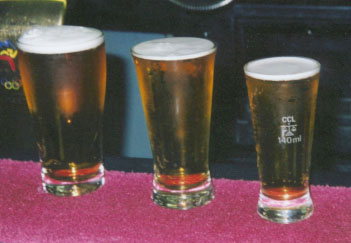 Could *you* order the right size?
Of course, the name of the beer container is only half the battle. You also have to know which beer is available in the particular part of Australia you are ordering in, and you also have to be aware of the correct usage of the word mate.
For example, if a bloke is behind the bar you order a beer in Queensland if you are buying for yourself as follows:
Barman: Mate, are you right?
Queenslander: Pot a XXXX thanks mate
Barman (after getting money): Thanks mate
Queenslander (after getting beer): Thanks mate
or alternatively, if you are shouting:
Queenslander: G'day mate, a jug a XXXX thanks
Barman (after getting money): Thanks mate
Queenslander (after getting beer): Thanks mate
Note that all words are typically slurred together regardless of whether or not you are sober. Note also, that if you were lucky enough to be served by a barmaid, then you would typically, but not necessarily, drop the use of the word mate. If are really on the ball, you will observe the placement of mate at the end of the sentence in the first order but not in the second order (due to the use in G'day mate). Further, G'day mate is not used in the first order as the Barman enquired as to whether or not the Queenslander was 'right'. That's just the way it is.
However, this same ritual observed in New South Wales would result in a very dry evening. Observe:
Barman: Mate, are you right?
Queenslander: Pot a XXXX thanks mate
Barman (looking confused?): Sorry?
Queenslander (thinking very hard and speaking slowly): Sorry, a schooner a New thanks
Barman: Are you from Queensland are you?
Barman (after receipt of money): Cheers
Queenslander (after receipt of beer and trying to fit in linguistically): Cheers
However, this won't get you very far if you wander up and west a little to the famous Northern Territory (which has the highest per capita beer consumption in the world). How would you cope, for example, if you heard this little exchange?
Barman: Mate, are you right?
NT'er: Green can thanks bloke
Barman (after receipt of money): Thanks bloke
NT'er: Thanks bloke
You see, in order to speed up and simplify the process of ordering the nectar of the gods, the NT'ers have invented their own little code for fast and accurate delivery. It is based on the colours of the desired beer can (or tinnie):
| | |
| --- | --- |
| Code | Translation |
| Red Can | Can of Melbourne Bitter |
| Green Can | Can of Victoria Bitter |
| Blue Can | Can of Fosters |
| White Can | Can of Swan Light |
| Yellow Can | Can of Fourex |
You will also note the use of 'bloke' instead of mate. This is, as far as we know, unique to the Territory. Bloke is used by Aussies all over Australia, but normally used in the same way as the american guy eg He's a good bloke; It's a bloke thing. Anyway, you now know the lingo. Give it a burl.
John Marshell wrote in in March 2002 to tell us how it is done in Victoria:
I've really enjoyed your site, but thought the procedure for ordering a beer in Victoria should be outlined for completeness :-)

Firstly, a 'pint' is now an extremely popular size for drinking _any_ beer not of local origin. Primarily these are the Irish beers - Guinness, Kilkenny, etc. as found in the numerous Irish-themed pubs around Melbourne. The generally colder weather than other parts of Australia means heating-up is not a real issue, and the crowding in these popular pubs means a larger beer avoids making numerous trips to the bar.

Actual beer-ordering procedure is similar to Qld, perhaps slightly more terse:

Barman: Right mate?
Victorian: Pot a Carlton thanks
Barman (after getting money): Cheers mate
Victorian (after getting beer): Ta

Schooners, Glasses, Small Glasses and Ponys are pretty much unheard of and will identify the orderer as a novice, or worse, as a New South Welshman. Pot, Pint and Jug are the only measures to be used if credibility is to be maintained.
This view was supported by Garry Keyery, who provided the following 'rantings and ravings of an avid beer drinker and loyal and patriotic Victorian':
I also support my mate's comments on beer sizes in this state. I am a big fan of the pint, and jug, and if worst comes to worse, the pot. I was very disappointed to recently find a pub in close proximity to my residence (the Burvale Hotel) that is "fazing out" pints in favour of schooners. Schooners are an in-between measurement, with no real positioning in this world. They are common in New South Wales and that is ok, as they are accepted there. There has to be some differences in the States of Australia, as this gives us our culture and feeling of unity is this wonderful state.
A wandering New South Welshman, Ian Parks, had this to say (12/03/03):
I thought saying 'schooner' in Vic is tantamount to saying 'hi I am from NSW, please treat me with contempt'.
He went into some more detail on the 13th:
My mate, Geoff, and I went on a trip to visit some friends in Victoria and South Australia. Being from NSW, we're used to drinking schooners (425ml) or pints (568ml) In Victoria we had to order beer in 'pots' (ie. 285ml which to us is a 'middy'), or occasionally pints in certain pubs if we were lucky. We get to South Australia and ask our friends "so you have schooners here, right?". They go "of course!". Fantastic, let's have a few schooners then. Our beer arrives and our friends happily tuck into their drinks. Geoff and I look at each other and ask them "are you sure that these are schooners?". I mean, they sure looked a little on the small side to us. Our friends assure us that these are schooners. We shrug and finish our beers by the time our friends are only half way down theirs. We go on to discover that their schooners equal our middies, and their pints equal our schooners, and our pints equal their imperial pints! Try wrapping your head around that after a few schooners. I mean pints. I mean pots.
Robin Anscomb, denizen of Cape York (North Qld), wrote in with the following tidbits (Jan 2000):
In North Queensland we still use the nomenclature 'five', 'seven' or 'ten' for our sizes. Rarely, if ever would anyone order a pint [20 oz]. Maybe on a birthday or similar for a mate but never for oneself. If ordered it is referred to either as a 'pint' or, less often, a '20oz.' Guinness is usually ordered by the pint, always as a 'pint', or half pint, referred to as 'a half'. The 15 oz glass is kept by some pubs for tourists unfamiliar with correct behaviour.

There is a logic. In North Queensland it is hot and dry or hot and wet. By 'the North I mean the real North Queensland north of Townsville, not that referred to by tourist bureaus and other ill-informed bodies, as Far North Queensland, and for whom the North seems to start about Mackay, ( If the North starts in Mackay, what would you call the top of Cape York and the region extending through Torres Strait to within 4Km of PNG? Incidentally the most northerly bar is on Boigu Island, is 4.5 km from PNG, and it serves a good beer but only in stubbies kept on ice in an esky. No air-con, no pipes, taps or kegs. The entertainment is home-made and idiosyncratic. ) I have digressed: In either season it is humid. Humidity makes beer go flat. Too big a glass, too long to drink equals flat beer. Many small glasses also does not detract from turnover. Alternately, ceiling fans make beer go flat, ergo, same reasoning. small glass, generally a ten, less often a seven, the old bloke in the corner drinks a steady five. With the advent of lighter beers, seven drinkers would upgrade to a ten of light. More liquid, better cooling, but not more alcohol. The use of the stubbie, replete with cooler supplied and maintained in all its individuality by the drinker, removes the likelyhood of flatness. The can is for visiting Territorians who have a distinct weal on the top lip where the cut has gradually healed over as scar tissue. Never, never pour a can or a stubbie into a glass. The purpose is defeated.

Mate is not regarded as a gendered word in the north and is used to whomever could be regarded as a mate. Also, a mate of either gender could be applauded with a 'Geez mate you're a good bloke.'

Please and thank you are muddled, with some English usage creeping in, as with the English form, "I'll have a ten please mate', interchangeable with the more usual Australian "I'll have a ten thanks mate." On receipt, 'thanks' is universal.
Daniel Garton wrote in with information on The Territory (April 2005):
In relation to can colours, I have only ever heard people refer to red cans and green cans, mainly because thatís all people drink and in the outback communities were the reference is most often used (particularly aboriginal communities) they only serve Melbourne Bitter and VB. Also, in relation to drink sizes, it now runs as follows (pints came to Darwin in about 96 Ė 97 and now one of most popular): pint, schooner, half pint, handle, 7. One of darwins most famous beer festivals is the beer can regatta, an event where 1000ís of people get together and build boats ranging from canoes to Viking ships and then gather once a year on the beach to race them in the sea and generally destroy them. not quite as big as it once was but all the same a very Australian celebration of beer.
And "Booze Maiden" wrote in all the way from WA to correct us (June 2005):
I'd just like to contribute a bit of information for the Ordering Beer section of your site. After reading the state-by-state chart I was
alerted to the fact that the largest beer on the list for WA was a "pot"; 20 ounces or 575 mL. I wish to point out that nobody in WA ever orders a pot to drink; I've always been under the impression this term was used by Eastern Staters only; certainly I have never heard it in a WA pub. Western Australians usually order their beer in two sizes (of glass! You can order it by the jug, of course!): the middy, or the pint. The pint is twice the size of the middy or thereabouts; I am unsure of the exact volume or the glass but I believe it corresponds to the News South Wales middy.

Please include this information on your chart so that all who visit this large sandy state of mine may partake in the joy that is beer without too much hassle!
Apparently our Victorian info is a little out of date as well according to Chris Freeman (June 2006):
couldn't help but notice (on your table at http://www.australianbeers.com/pubs/ordering/ordering.htm) you state that in victoria, you can order a schooner. however I've never asked for one or heard one ordered in Vic.
note also that many barmaids nowadays don't know what a pony or a small glass is. It's all pots, pints, or jugs.
I note also that handle is missing for victoria. A pot or a handle are both the same measure, but sometimes a barman will ask "do you want a handle?", to differentiate if you want a pot in a 10 ounce glass, or a 10 ounce beer glass with a handle. The advantage of the handle is you can carry more at once for a big shout.
Adam Pearce gave us the good oil on South Australia practice (October 2006):
Hi i noticed that you did anything for the great state of SA.In SA schooner is king the most common and popular beer is west end draught, so not to look like an idiot you order an schooner of draught.Although that said most pubs and its inhabitants are pretty open about what you order,so if you order an schooner of new or VB etc you wont get hassled.

Pints are rarely used and are usually irish and pommy beers and at football park and hindmarsh stadium (in a plastic cup or plastic pint as there called). Butcher and Pony's are never used and ive never seen it at a pub.

Get the terminology right and your pub experience will be excellent next time your in our great state.
Kim Knight wrote from Tassie with the following (May 10, 2008):
Hi there, after 10 years of drinking around Tas, the measures I have come across are: Jug, Pint, and 10oz - aka Pot. If you ask for a beer, a majority of pubs will serve you a 10oz. A pint in Tas equals 20oz. The increase in availability of boutique beers over the past 5 years has seen the introduction of the schooner in Tasmania. Most people don't specify a schooner - they just order certian beers and they are served in a schooner. Most of the regular beers are still served in Jugs, Pints or 10oz.
I have yet to see any pubs serve an eight, six or 'small' size beer. I have spent a small amount of time in Canberra recently, and one thing I noticed was that when you order a 'beer', you get a 20oz pint by default.
No doubt other states have their own rituals. Please send details of yours here.
As of late 2004 we have been shocked to discover that "pot a XXXX thanks mate" is now sometimes ambiguous in Qld pubs, such has been the growth of XXXX Gold. You now need to specify gold or bitter!
We are shocked and horrified to learn in 2006 that some Queensland pubs have started selling 250ml glasses (instead of 285 glasses) when customers order a pot. This is misleading and deceptive, and the ACCC should put a stop to it. It is as wrong as delivering a "schmiddy" when a schooner is ordered in NSW. And to say that it is to counter binge drinking is absurd. A pot is a very small measure as is!
Patrons at the Paddington Tavern and the Calamvale Hotel, the two pubs serving 250ml pots, were surprised to discover they were supping from a smaller glass. "It makes me sick now just thinking of all the beer I have being missing out on," Calamvale Hotel regular Ivan told The Sunday Mail. "It's wrong. When you order a pot you should know what you're are getting."You shouldn't have to check the bottom of the glass every time you order a beer. "I always drink here and I have never even thought about the size of the glass."
Shrinking beer glass, The Sunday Mail, 11 june 2006

New South Wales and A.C.T.

Pint

568ml

20 ounces

Schooner

425ml

15 ounces

Middy

285ml

10 ounces

Seven

200ml

7 ounces

Pony

140ml

5 ounces

Northern Territory

Schooner

425ml

15 ounces

Handle

285ml

10 ounces

Seven

200ml

7 ounces

Queensland

Jug

1125ml

40 ounces

Pot

285ml

10 ounces

Beer (some pubs)

200ml

7 ounces

Schooner (some pubs)

425ml

15 ounces

Middy (some pubs)

285ml

10 ounces

Five (some pubs)

140ml

5 ounces

Seven (some pubs)

7 ounces

Ten (some pubs)

285ml

10 ounces

South Australia

Pint

425ml

15 ounces

Schooner

285ml

10 ounces

Butcher

200ml

7 ounces

Pony

140ml

5 ounces

Tasmania

Ten or Pot/Handle

285ml

10 ounces

Eight

225ml

8 ounces

Six

170ml

6 ounces

Small Beer

115ml

4 ounces

Victoria

Schooner

425ml

15 ounces

Pot

285ml

10 ounces

Glass

200ml

7 ounces

Small Glass

170ml

6 ounces

Pony

140ml

5 ounces

Pint

568ml

20 ounces

Western Australia

Pot (see comments above)

575ml

20 ounces

Schooner

425ml

15 ounces

Middy

285ml

10 ounces

Glass

200ml

7 ounces

Bobbie

170ml

6 ounces

Pony

140ml

5 ounces

Shetland

115ml

4 ounces
Take a break from drinking like the author of this article did - Read why and how in his book Between Drinks: Escape the Routine, Take Control and Join the Clear Thinkers