Encouraging words from a regular Home Brewer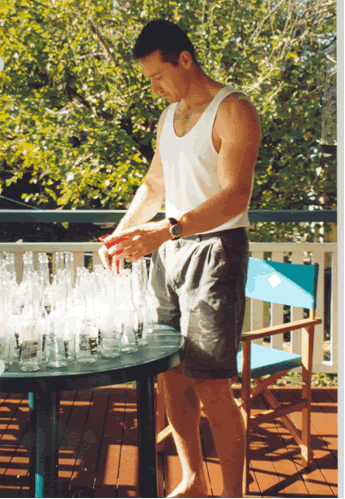 An expert at work..
In my opinion, there's no beer more Australian than a Home Brew, or "Brewski", as it is often called. And nowadays, it's easier than ever.
We all have a father or an uncle (or know someone who has) who "used to brew up a storm" down in the back shed, or under the house. Usually the tales extend to anecdotes about dangerous and sticky explosions, many failed brews, inconsistent quality, consistently bad quality, and dangerously potent brews.
My dad used to do it, and he had his fair share of big bangs and bad brews.
However since I started brewing back in 1999, I have discovered that producing a top tipple is as easy as falling off a log.
I have since produced 30 more brews, (and have worn a couple of explosions), but to my surprise, have produced consistently good beer. I much prefer the taste of my home brew lagers to all mainstream commercial brands (VB, Fosters, XXXX, etc…). The only commercial beers that come close to the taste are some of the premium lagers like Boags and Coopers
Remarkably, I still count my first (complete novice!) brew as the best. It was a dry, fruity number which got better with each sip. I was surprised and delighted – as was my wife (a non-beer drinker) who even found that she quite liked it. This was produced an all-in-one starter's "Breweiser" lager kit bought at a hardware store, complete with malt, sugar and hops.
To my dismay, that exact kit was never sold again, so I have been trying to re-create the mix using various ingredients. I have come reasonably close now, using:
• 1 tin "Gold Rush" lager
• 1 kilo "Body Brew" sugar mix – Dextrose/ Light Malt/ Maltodextrin
• 1 extra packet of "CL80" or "Pride of Ringwood" hops
One-off start-up costs (Fermenter, bottle capper, etc) will be about $50-$80. After that, the ingredients cost about $20 per brew, and will produce about 20 litres or 2 cases of beer. A compelling equation!
Ferment for a week at 25 degrees, bottle with sugar, and store for 3 months before drinking.
I find empty Corona bottles are best for bottling, as you can 'see' the colour of your beer, they are just the right size for a 'relaxer' after work every day, and are good to take as six-packs to events.
Give it a go – it's great fun, cheap as chips (about 35c a bottle), all natural, and all yours!
Justin Crakanthorp
Guest Contributor
Norman Park, Brisbane
Take a break from drinking like the author of this article did - Read why and how in his book Between Drinks: Escape the Routine, Take Control and Join the Clear Thinkers