Q: Tony, you are the chief brewer of the Southwark brewery in Adelaide. To most Australians that sounds like a dream job - how do you spend your day?
A: Probably even more interesting than most would think as my role now covers marketing and sales aspects of the Southwark beers, as well as the technical brewing aspects. I spend quite a bit of time in the trade, as well as beavering away on potential new products for the Southwark family. There is never a dull moment, something is always brewing. Even so I always manage to get to the obligatory Select Tasting Panel Session at 12íoclock each day, thatís definitely a highlight.

Q: The next question is an obvious one: how does one become chief brewer of a major brewery - what's your background?
A: Probably not without quite a bit of luck and a lot of good timing. Seriously though, I started off doing a Degree in Science at Uni of SA, then worked for 8 years at the Customs and Excise Department, before picking up a position at South Australian Brewing as an Investigations Brewer operating the Pilot Brewing Plant. This led me to a number of positions in Quality, Packaging and even a spell at the Maltings before I was appointed Chief Brewer in 1993. I guess Iíd always been motivated to work at the brewery as both my father and uncle had worked for SAB and I was born and raised in Thebarton, within a couple of kilometres of the brewery.
Q: Apart from the advent of the light beer, the last major change in Australian beer habits was surely the move to the German lager. What do you see as the next great step in Australian drinking patterns?
A: I think we are already seeing an expanding number of styles which are accepted by beer drinkers as a part of their portfolio of brands. While 10 years ago drinkers tended to have a favorite full strength beer and a favorite light brand, its now common for them to have to 5 or 6 different brands, which they drink on different occasions. The lager style, as good as it is for consumption in a hot climate like Australia, does not fit the bill for all occasions. The most pronounced change we have seen has been the increasing popularity of the Australian style cloudy, pale ale. This style is much more easy drinking than its English ancestors, yet offers a bit of an extra challenge to taste buds due to the presence of the yeast. I believe that the different wheat beer styles will also find a place in the market over the next two summers as Australian drinkers are becoming more knowledgeable and discerning about the flavour of their beers.
Q: We understand that Australian beer consumption has been declining in the last decade. Do you consider the beer market to under threat by other drinks, for example wine?
A: On the contrary I think we are just starting to see a re-emergence of beer as a beverage that can stand up alongside wine as a serious alternative. In many ways we must thank the wine industry because they have played a big part in educating people about tasting, food matching, and just understanding what types of flavours they can distinguish and which ones they like.
Q: Why do you think there has been such a shift to premium beer consumption?
A: Basically I think its just people wanting more choice. Brewers have responded by experimenting with their more premium brews. More malt used in the brew, plus more intriguing hop blends, and usually a slightly higher alcohol content. All this goes to making a more complex flavour profile. Generally these beers are also packaged very attractively, which helps make them more appealing. If my assumption that the market is becoming more educated is correct, then you would expect drinkers to shift toward the premium segment as they look for a greater choice.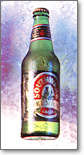 Q: Is there really much of a difference between a premium and non-premium beer? Or is it just marketing?
A: Most brewers are honest and do put the extra work and dollars into producing a premium which is a step above their normal beers. By that I mean whatís within the bottle as well as the packaging.
Q: We have seen VB invade every state, and Hahn Premium doing likewise. Do you think the old state based loyalties will become a thing of the past?
A: Not totally. There will always be a segment of the market which knows what they want in a beer but also like to support the home brands. People do get passionate about beer brands and very attached to icon brands, so there is often a soft spot that will lure them to stick with the local product, but only provided that it meets their taste needs.
Q: We have a quote on our page from you regarding the disposable esky Ė what ever happened to that?
A: Unfortunately it ended up a bit more disposable than we would have liked. The concept was a good one. Perhaps it will re-emerge in a new format at some stage in the future.
Q: As far as we know, Southwark is not well known outside of South Australia at this time. Do you have plans to expand the availability of Southwarkís fine beers? Surely Lion-Nathan's distribution network can help out in this regard?
A: We have been working hard over the last few years to make the Southwark family something different and special for beer lovers. Our point of difference apart from the styles we offer, is that we are a small brewer, and operate in that way. There are no mega-dollar advertising campaigns to boost our sales and distribution, so we take it a step at a time and let our beers do the talking. Having said that we would like to see drinkers outside S.A. being able to buy our beers.
We have been fortunate that following the long success of Southwark Premium and our Southwark Old Stout at the Australian Beer Awards, Liquorland have stocked both these products in some of their N.S.W. and Vic stores.
We are hoping that the good recent reviews for Southwark White in the Sydney press, and the medal winning performances of Southwark Bitter and Southwark Pale in the World Beer Cup may see these added to that range in the near future. Itís a slow process, but our reputation is building and Iím hopeful that the eastern states will see more of our beers in the near future.
Q: Why did you choose to develop a Wheat Beer?
A: It seemed a natural next step in terms of introducing a classic beer style that would still suit Australiaís climate and beer culture. Changing from total barley to a proportion of wheat in the brew has a big impact on the flavour profile. Itís akin to changing grape varieties in a wine. It was important that the amount of wheat used was high enough to contribute significantly to the flavour profile, giving rise to the clove-like spiciness that sets the German wheat beers apart. We were seeking to broaden the Australian beer drinkers perception of what a good beer can taste like. I think we have succeeded.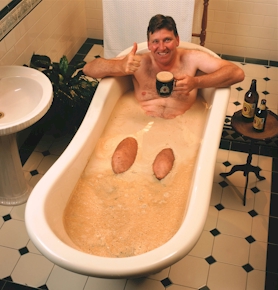 Q: Once you have made such a decision, how do you go about brewing it? Do you use an existing recipe or experiment?
A: Having decided on an existing style, the Bavarian hefeweizen, it was a matter of experimenting with the recipe, on a small scale at first, to achieve the flavour profile we were after. That meant varying the proportion of wheat, the amount and variety of hops, and even the yeast and fermentation conditions to get the degree of fruity-spiciness we were after. Then it was scaled up to a full size brew, which fortunately we got right first time. We launched on tap only at first, which enabled us to do a bit extra consumer research and to fine-tune the beer before we launched it in the bottle.
Q: How is the market reacting?
A: Extremely well. Weíve been knocked out by the response to what is a fairly unique taste compared to Aussie lagers. With this style of beer very suited to summer consumption we are expecting big things over the holiday period as more people discover the taste of Southwark White.
Q: Finally, what's your favorite beer, and, if you don't mind us asking, your favourite watering hole?
A: Iíll have to confess to being biased, but Iím a converted wheat beer drinker now and seldom go past a Southwark White. The middle of winter is likely however to find me seeking the warmth of a stout like Southwark Old Stout.
Adelaide has many great old pubs but Iíve got two particular favorites. The first is the recently remodeled Seacliff Hotel, a seaside pub with great views of the gulf and a great selection of pack beers from around the world. The other is a very different style, known as the Worldsend, in down town Adelaideís Hindley Street. This is funky yet mellow pub with a long history, which is just so relaxing to sit in and contemplate your beer.
NOTE: Tony has now moved on and is a Senior Brewer at the Malt-Shovel brewery.