Pub in a Paddock - Pyengana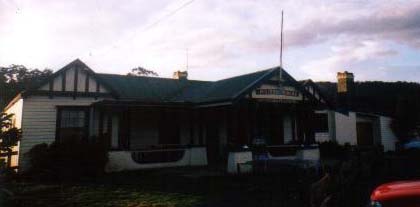 The 1880 Pub in the Paddock
Two hours after our Commercial adventure we were half way between Launceston and St Helans (see the map), in a beautiful little valley called Pyengana, when we saw a sign that said, "Pub in a Paddock 3km - Come and see our Beer Drinking Pig". "Beauty", said Wild Man, "we're here".
We took a turn to the right and headed towards the pig. Lest there be any confusion, at this stage we were well and truly in bloody woop woop, even if it was pretty. Given this, our expectations of the "Beer Drinking Pig" at the "Pub in the Paddock" were somewhat low. After 10 minutes or so we did come across a property in the middle of nowhere, with a building up the driveway. "You reckon this is it?", we asked. Sure enough, there was a sign inviting us to come on in.
And so we drove up to what was, on closer inspection, obviously a pub cum bed and breakfast. No sign of the pig. We wandered in cautiously, half expecting someone to come running out with a shotgun. Walking into the bar we were struck by a barman having an in depth conversation with 2 locals. They were talking about declining fertility rates in the valley. Why, there was only one couple who had more than 5 children. No make that two. Out of 100 people. Could you believe it.
We couldn't, as we stood there, thirsty. "Sorry", said the barman, as he moved away from the open fire. "What are ya after". "Couple of tens", we replied, feeling rather clever. He poured us each a Boag's Draught, and despite our inquisitive looks wandered back to the fire to continue his conversation. The problem was, you see, that everyone in the valley was either under 18 or over 45. 100 years ago it was a different story. No back then, men were men, and what's more....
Drinking deeply, our eyes wandered across the bar to a strange looking plastic pig holding a sign that said, "Pig Beer, $2". "Oh", we said, disappointed. "What, do you pour the beer into that?". "Don't be a bloody drongo", was Wild Man's reply. "Oi - barman, give us each a Pig Beer would ya". "No worries", was the reply, as he wandered around the back. He returned minutes later with what looked like two open stubbies of Boags Premium.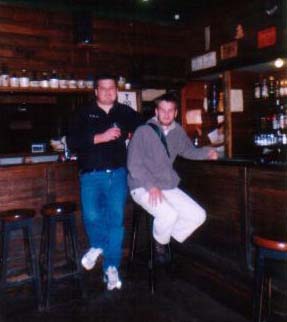 Pig Beers all round...
Being interested in all new beers we gave this Pig Beer a bit of a sniff. "For christs sake", said the barman, "don't drink the bloody stuff". "It's for Slops". Slops? Slops drinks the slops? The barman returned to his conversation and once again left us to our own devices. Wild Man wandered out the door into the front of the pub, and then walked towards the corner of a little pen. How could we have missed it.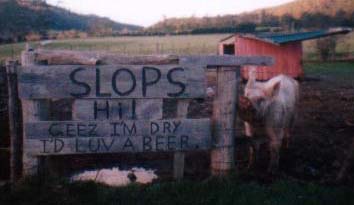 Slops waiting for a beer!
Slops, in all his glory, was waiting desperately for a beer. As his sign said, geez he looked dry. We wandered closer, and Slops started drooling in anticipation, his filthy mouth slurping helplessly mid air as he sought to satisfy his cravings. We obliged, holding the subbie out to see if he was interested. Slops surged forward, lips stretched, and started sucking on the neck with all his heart. "Hold it closer", exclaimed Wild Man. "We don't want him hurting himself on the barbed wire to get to the beer!". Within seconds, Slops had slurped down the whole stubbie, beer running down his sides of his face, along with other mouthly fluids and assorted filth. The first bottle empty, he seemed even more agitated as he stood there, his lips twitching and black eyes squinting as he tried to seek out more of the amber nectar. He had the taste. We had all been there, and quickly put forward another stubbie to ease his pain. This too he slurped down like a pig possessed.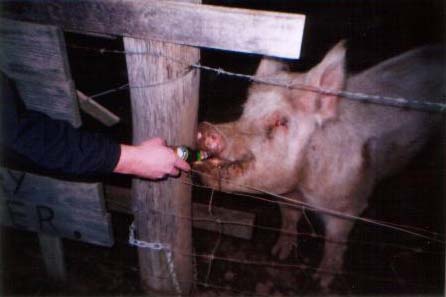 Slops getting into it!
Having given Slops all the beer we had, we empathetically held up empty hands as we walked back to the bar. Slops squealed a terrible squeal as we left, mouth still sucking helplessly in the air, his little black eyes darting back and forth. Somewhat shaken by his need, we quickly ordered our own beers, and asked the barman if Slop's thirst had ever been satisfied. "Once", he said, as he poured our beers. "He left Boonie for dead". His reference of course was to the most famous Tasmanian of all time - Australian Cricketer David Boon - who drank 52 full strength, 375ml stubbies on a flight from Australia to England on a cricket tour.
"No, that's impossible", we said, stunned.
"It's true", said the barman proudly. "He drank 76 full strength stubbies in one session. Mind you, he fell over after 54, but the little trooper kept on going lying on his side". It looked as though tears were welling his eyes as he recalled the moment, but then handed us our beers and resumed his conversation with the locals.
| | |
| --- | --- |
| We returned to our car on a bit of a high. "What could top this?", we wondered aloud. "Nothing", said Wild Man, "I told you the North had the best beer and the best pubs". "Still, those bastards down south claim otherwise, so I'd better let you make up your own mind". | |
Take a break from drinking like the author of this article did - Read why and how in his book Between Drinks: Escape the Routine, Take Control and Join the Clear Thinkers