The Royal Exchange - Toowong, Brisbane, Queensland
Some people in recent years have voiced the opinion that the pub culture in Brisbane is inferior to that of Sydney or Melbourne. They have claimed that at best Brisbane is filled with 'old man's pubs', and that deros, alcos and wineos are all that you will find in most. Well, AustralianBeers.com, interested in all claims relating to Australian Pub culture, did some research on this point. And are pleased to report that, at least in the inner western suburbs, the claim simply isn't true - its a furphy at most. The counter-example: the Royal Exchange, or simply RE to its loyal patrons.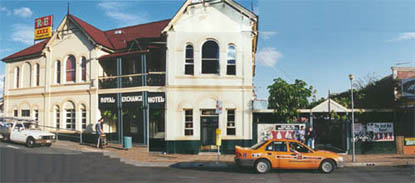 The RE - the heart of Brisbane student drinking
Situated within 10 seconds of the Toowong railway station, and less than 10 minutes from the University of Queensland, the RE has a long tradition of quenching Brisbane's thirst. Dating back to the last century, the RE commenced its existence as a resting spot for weary travelers - somewhere where they could hitch their horses and grab some tucker, a welcome beer and a place to stay.
Since then the culture of the place has understandably changed, although it remained a popular haunt with locals and travelers alike till the early to mid eighties. However, up until that time, another one of Brisbane's great pubs, the Regatta, had won over the hearts, minds and livers of Brisbane's highly active student population. The 'gatta was the place to drink as a student in the 70s and 80s.
But then things started to change. The University of Queensland crowd, in particular, began to slide, ever so slightly, closer to their University base. The 'gatta lost some of its charm, its status as a student pub. And that crown was slowly, ever so slowly donned by the RE. By the time the early to mid 90s had slid around, the RE was firmly entrenched as the student pub of Brisbane. Pop into the RE on a random weekday, or even the weekend, and chances are you would see one of your student mates.
So what is the appeal of the RE? AustralianBeers.com decided to send a trusty reviewer to ask several of its regular patrons to sum this up in three words or less, and the resounding conclusion was simple: the beer garden.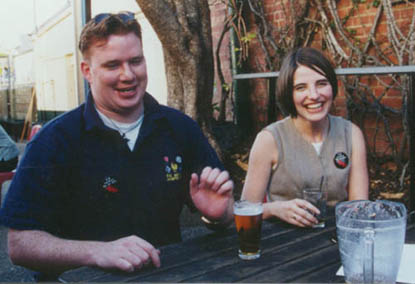 Bob and his friend enjoying the RE's beer garden
AustralianBeers.com asked one patron, Bob, to expand on why he drank at the RE. "Well, it's simple", said Bob, after finishing off one glass without blinking an eye, "There is nothing sweeter on this earth than a lazy afternoon in the RE beer garden with a few mates. I love it more than anything else." He finished off his second glass in a single slurp before glancing to his left, "except you dear", he said, sounding a bit guilty.
There is nothing sweeter on this earth than a lazy afternoon in the RE beer garden with a few mates.
Fine praise indeed. Leaving Bob to his third beer in what seemed to be as many minutes, our reviewer decided to explore for himself.

Fun and frolic for all and sundry
The main beer garden does indeed appear hospitable: large tables have been provided for the packs of students to sit together in the Brisbane sun, heat lamps have been installed for those short periods in the Brisbane year when they are needed, and, importantly, there is a bar in the garden itself for easy access.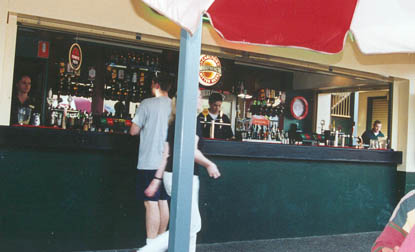 The Beer Garden Bar
Wandering past the bar you are faced with the RE's food counter providing its version of counter meals. We ordered the Chicken Burger, and, although it was a little bit expensive, it was certainly convenient and was of reasonable quality. As we were testing this food, a porky local appeared out of nowhere and whispered, "In the old days everyone used to order Super Chicken from around the corner and bring it in the pub". He, looked around, clearly a bit nervous, "The counter used to be another bar. Ever since they converted it they have banned people from bringing food in". His sweaty face broke into a what could be described as a grin, "I still smuggle it in though".
We thanked the unnamed informant as we wandered past even more chairs till we came to a set of stairs on our right. According to management, these stairs have only been built in the last year or so, when they opened up what used to be the old accommodation section of the pub to satisfy increasing demand. Our curiosity piqued, we trundled up the stairs to see what was in store.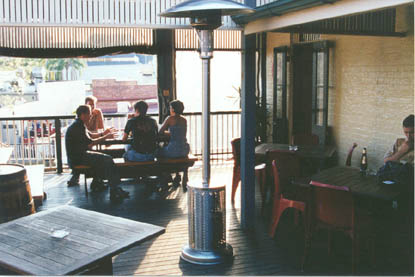 Up the stairs we go...
There is certainly more to the RE than is initially discernable from the street. The stairs did lead to a welcome another outdoor area, followed by a veritable maze of pool rooms, a bar and a television. On the night we conducted our review, Australia was playing some sport or another and the whole room was going wild. There were certainly a few songs being sung.
| | |
| --- | --- |
| | |
| The Upstairs Bar | One of the many rooms |
After doing our utmost to get a feel for each of the rooms in turn, we discovered another set of stairs and wandered down to see what else this pub could offer. We were pleasantly surprised to see that, contrary to our initial impressed, the RE is not exclusively a student establishment. There appears to be not one but two bars devoted to the 'older' population -along with pokies and TAB. And, having spoken to some of the older 'students' in the beer garden, it also became apparent that just because one graduates from University it does not necessarily mean that one graduates from the RE. "And besides", said one bloke in his late twenties, "where else can you get a room filled with bright eyed little University darlings but here".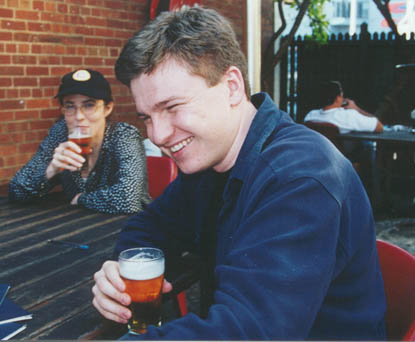 The RE - One of Brisbane's Best
All in all, the RE is one of Brisbane's best pubs and is highly recommended. It is up there with the Brekky Creek as one of the finest places to spend a lazy Sunday afternoon in Brisbane. In fact, our only negative comment is an observation that while beer is able to be purchased at 11.58pm, bouncers have been known to be quite aggressive in kicking you out at the crack of 12.00pm. The advice from AustralianBeers.com is either to stop selling the beer earlier, or let people sit and drink for half an hour after closing - it doesn't really cost the pub much, but it means a lot to the people getting kicked out on their ear.
Take a break from drinking like the author of this article did - Read why and how in his book Between Drinks: Escape the Routine, Take Control and Join the Clear Thinkers