Broadarrow
After about 7 hours of non-stop driving east of Perth, we eventually drove, parched, into the small town of Broad Arrow.
Well at least we thought it was a town.
It was difficult to say, as there were only three or four buildings.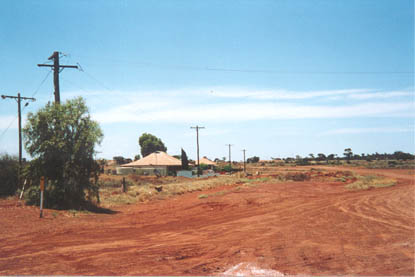 Broad Arrow, Outback WA
However, fortunately for us, one of them was a pub.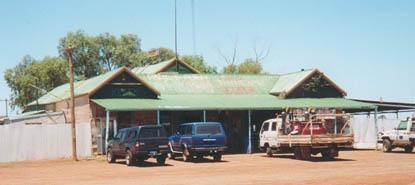 The Broad Arrow, Broad Arrow
We wandered up to the pub, trudging through the red dirt in what must have been 40 degree heat - eager both for a refreshing beer after our long drive and our chance to get our first real taste of outback WA culture.
As we grew closer to the door, we wondered what we were in for. Had the place just been ransacked?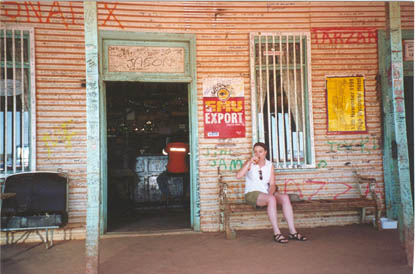 Our first view
The whole of the outside of the pub was covered in graffiti - people had scrawled over everything. And the windows were barred. On closer inspection our fears were confirmed. The place had been trashed big time.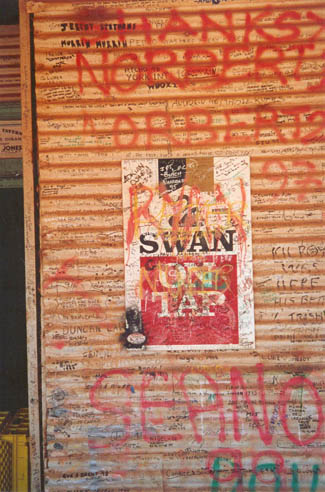 WA's Swan, Broad Arrow Style
By this time we were getting a little worried. We moved into the main door expecting to see someone waving around a big stick.
Instead we saw an angel.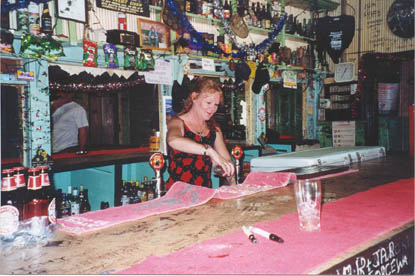 The BroadArrow Barmaid
She smiled a sweet smile and said in a broad Australian accent, "whatkinegetfiryamate?"
We looked at our choice: Swan, or Swan. On tap at least.
"ahh, Swan thanks".
She moved deftly to one of the two Swan taps and started filling a glass, "yenotfrumroundereeh?", she said, as the beer poured.
"ah no", we said, as we surveyed the interior. Writing adorned every wall! "What the bloody hell has happened here?", we asked, as she handed over the icy cold beer. Didn't that taste fantastic after 7 dry hot hours in a dry hot land.
"uhblokesabinwritinonthesewallssince82", she said, ''avapen". She passed over two pens.
| | | |
| --- | --- | --- |
| We grabbed them, said our thanks, and braced ourselves for a closer look at this mad pub. | | |
Take a break from drinking like the author of this article did - Read why and how in his book Between Drinks: Escape the Routine, Take Control and Join the Clear Thinkers