Newtown, Sydney
Newtown is an old suburb of Sydney dating back to the early 1800s. The main King Street is said to have been a bullock track used by all and sundry when venturing to the southern farm lands. The name Newtown derives from an old store situated where the Oxford Tavern is today, and its usage was officially recognised by the Sydney Gazette in 1832.
It was basically farmland back then, with the convicts doing all the hard yakka with the privileged classes living off their sweat, blood and tears. From about 1870 to the early 1920s there was quite a lot of investment into the real estate in the area - impressive shops were built along the main street and the workers were huddled into terrace houses built on streets and, what is quite novel in Australia, lanes.
The beauty of Newtown is that these shops and houses still exist. They are used and lived in every day, giving the area quite a quaint feel about it.
The old shops of King Street (note the 1889)
The area degenerated from the 20s, becoming poorer and poorer. The 1960s were considered the low point for the area - it was basically considered a 'no-go' zone for fear of your life. Quite tragic for such a historical suburb!
Since then however, the area's location to the city and proximity to the Sydney University have resulted in it cleaning up its act. Real-estate prices have driven out most of the undesirables, although junkies still abound. The area is considered one of the last affordable inner city locations, and is a popular area for renters.
Culturally Newtown is like no other in Sydney, or, quite possibly, Australia. One less than tolerant local described it to us as, 'an arty-farty suburb filled with freaks, poofs, junkies and weirdoes'. We prefer to see it is a melting pot of society - walking down King Street you can pass same sex couples, goths, suited professionals, heterosexuals and students from the local Uni. There is an air of tolerance about this place. You can tell there is no expectation either way - you can be whoever you want to be in Newtown.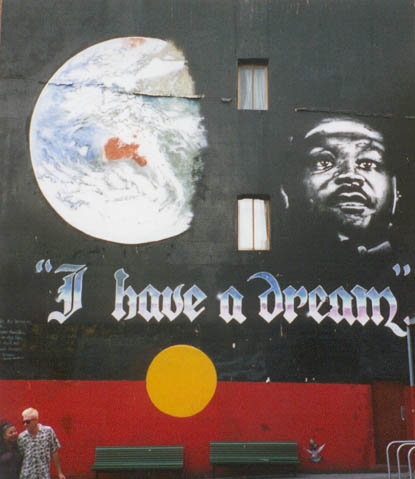 Newtown - a suburb of tolerance (the flag is the aboriginal flag)
| | |
| --- | --- |
| One thing Newtown is famous for, however, is its pubs. Being an old suburb, it has lots of them. And so AustralianBeers.com sent one of its top gun reviewers to check them out, one by one. Our first stop, the Court House Hotel! | |
Take a break from drinking like the author of this article did - Read why and how in his book Between Drinks: Escape the Routine, Take Control and Join the Clear Thinkers