Chloe
[D]ear Chloe, soft and naked, withholding nothing and temptingly virginal.

John Larkins, Australian Pubs (1973)

Sweet things do not go well with a bitter Aussie lager - Chloe is an exception

Rafal Zakrzewski, Beer Historian (2001)
If you asked true blue Aussie beer lovers who they consider to be the Queen of Australian pubs and beer, the knowledgeable ones would reply in one voice - "Chloe!" If you do not know this lovely young lady then allow us to introduce you. Although, we must warn you that our angel will greet you with a little nonchalance. It's nothing personal, everyone gets the same treatment, it's just her style. Even if you have had the pleasure of meeting her and have been smitten as the rest of us have, you should realise that she truly is a lady with "a past" - and what a past it is.
Chloe was born, or rather painted, in Paris in 1875. This makes her a lot older than your grandmother so you should treat her with the respect befitting someone of her advanced years. Her creator, the red blooded man we should all toast occasionally, was Chevalier Jules Lefebvre. Lefebvre was a true master in the old style. Forget your Warhols or Pollocks. He was someone who could actually paint. And he did. We salute him. But we are not the only ones. The work's true genius and Chloe's sex appeal were quickly recognised, the work won the Grand Medal of Honour at the Paris Salon almost before the paint had dried.
How was it that this fair skinned creature of supple silky skin, gentle curves, rolling hips and pert … allow me to stop myself as I have digressed. How was it then that this great beauty found her way to Australia? She came by ship of course, as all did in Victorian times. Why did she set foot on our shores? She came to show her charms to the world at the Great Exhibition. She is a great exhibitionist so it was only fitting that she appear at the Great Exhibition, and she oozes charm from every pore of her lithe body. The Great Exhibition of 1880, which took place in Melbourne, was not actually an event where exhibitionists were welcomed. The end of the 19th century, known as the Victorian era, is famed for its hypocritical morality and prudery. Chloe, being a progressive assertive girl unfettered by uncomfortable clothes, naturally fell victim to this. The wowsers disliked Chloe. They attacked her when she continued to bare her luscious flesh in the colony's best gallery. Chloe, although unmoved, was eventually removed.
Our girl was then bought by Tom Fitzgerald, a surgeon who worked at the Melbourne Hospital. Sir Tom (as he later became) could not resist her charms and they stayed together for better, for worse, for richer, for poorer, in sickness and in health until death parted them in 1908. But such an object of desire was too powerful for display in a private drawing room. She had a destiny. It was fulfilled when she crossed paths with Norman Young who purchased her immediately that the opportunity arose for the princely sum of £800.
That is fascinating, but how did this French flower come to be so near and dear to Australian beer lovers, you cry? Well, I was just getting to that. Norman Young was no ordinary fellow with a taste for great art, fine nudes and an abundance of cash. No, he and his best mate Henry Jackson were also publicans. The pair had acquired their cash in the mining boom in New Zealand. Whether they also got their taste for great nudes there is lost in the haze of history. At any rate, they decided to invest in a great pub and to fill it with marvellous works of art. This they did by buying the Princes Bridge Hotel from John Toohey and renaming it "Young and Jacksons". John Toohey had bought the buildings in 1861 and converted them into a pub. They had been constructed in 1840 and had served as a grain store, a butcher's shop and most ironically "Miss Cook's School for Young Ladies". One wonders what Miss Cook would have said about Chloe?! Going back to the very beginning, the plot was originally purchased by Batman in 1838 for £100. Batman did not generally wear lycra nor his underwear on the outside of his garments. He did not even, at least as far as we know, have a sexually ambivalent relationship with a sidekick called Robin. In fact, John Batman was the founder of that proud city, Melbourne. He died of syphilis at 38.
Thanks to Chloe's womanly graces, Young and Jacksons grew into one of Australia's most famous pubs. It still stands erect on the corner of Flinders and Swanston Streets in the heart of Melbourne, opposite Flinders Street Train Station and not far from St Paul's Cathedral.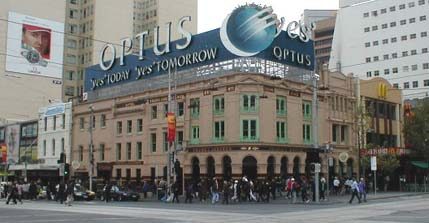 Young and Jacksons
During and after World War One and Two, diggers and, in the case of the latter, their Yankee friends (and sometimes foes, as in the infamous Battle of Brisbane) used to meet at Young and Jacksons to admire the lovely Chloe and imbibe sweet nectar in her sublime presence. To this day, you will find them returning to the same spot to toast the fair lady and their fallen comrades who would not set eyes upon her again. When we last made our pilgrimage to see her, we met a few airforce ex-serviceman who had come to visit their old friend Chloe and drink a round or two with her. Age had wearied them somewhat, Chloe looked as stunning as ever.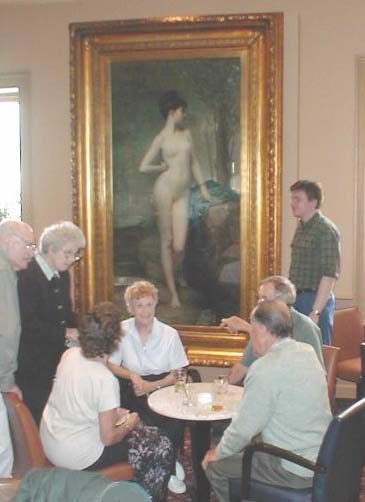 Diggers visit their fair lady
It would be remiss of us not to tell you of the saddest episode in this whole story, the model for Chloe, the "real" Chloe, committed suicide shortly after the painting was finished. It was a tragedy and a waste. At least, thanks to the masterly hand of Lefebvre, you can still admire this French madame as she was: beautiful, young and sexy. So not only do we have better wine than the French but, to add insult to injury, one of their most beautiful nudes has also found its way to our shores. Were these the unpalatable factors that drove them to perform nuclear tests in the Pacific? One can only speculate.
We asked this fair lady to be the Patroness of AustralianBeers.com. She could not object. Have you ever seen a lovelier sight over the top of your glass? We advise you to hurry down to Young and Jacksons and savour the experience. Recognising their debt to her, they have named the upstairs bar after her and even had an ale produced in her honour "The Naked Ale". But that's a story for another day.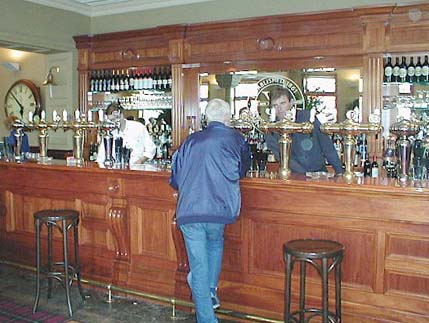 The downstairs bar...
Take a break from drinking like the author of this article did - Read why and how in his book Between Drinks: Escape the Routine, Take Control and Join the Clear Thinkers