Cabbage Tree Hotel Fairy Meadow
BY Mick Roberts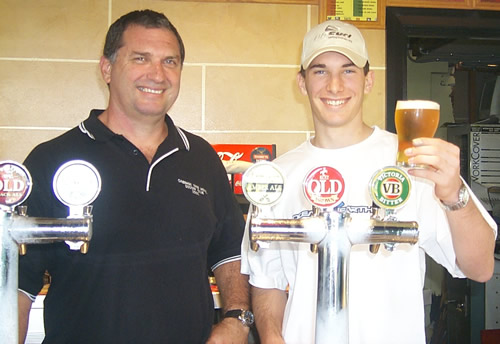 Mick Hanley with his son Peter at the bar of the Cabbage Tree Hotel Fairy Meadow
Although in vastly differing style to his forebears, Mick Hanley is continuing a family tradition running pubs.
A former cop, Mick hosts the Cabbage Tree Hotel at Fairy Meadow near Wollongong, on the NSW South Coast, and recently was pleasantly surprised to learn of his pioneering publican heritage.
Mick, while going about his business as a Wollongong licensing cop in 1990, spied his family name on the façade of the Centennial Hotel at Helensburgh.
A little digging and he discovered his great granduncle William Hanley established the pub on the opposite side of the road in 1888. He was even more surprised to learn that his great grandfather John Hanley built the original pub. The family later relocated the popular watering hole to its present location in 1915.
It was ironic, Mick as a licensing cop, was inspecting a pub established by his ancestors over a century ago. But what was really amazing was Mick's great grandfather, while building the inn was charged by the licensing sergeant of the day with selling grog without a license. A charge he supplied liquor to his workmen building his pub was eventually dismissed.
Now at the helm of the Cabbage Tree, Mick is continuing the family tradition of hosting pubs. He said a legend of his Irish forebears fabricating a gold rush in Sydney's Royal National Park in the 1880s to boost business at their struggling Waterfall inn was a well worn yarn in their family.
Mick's great granduncle's notoriety came in 1886 with the 'salting' of a creek with fine alluvial gold. He had spent a number of years in the gold fields around Cooma and knew how the slightest sniff of the mineral could spark a rush. Reports of gold at Garie in the Royal National park spread to Sydney and hundreds of prospectors arrived in the Waterfall district seeking their fortune. However, the find was proved to be a hoax and William Hanley was said to be "the controlling factor in opening up the Garie rush". It was reported his "very dull hotel became a hive of business while the excitement lasted".
The Fairy Meadow publican also discovered the first Hanley to settle in Australia, a generation before his Helensburgh forebears, came to Sydney as a prison guard on a convict ship from England.
"My dad was a police officer and I was as well. I just though, here we go again, continuing the history of policing and now hotel keeping," Mick said.
The Cabbage Tree Hotel is Mick's first pub. He took the reins in August 2002 after discussing a career change with his wife, Rosemary and three children. Mick said it has been an eye opener.
"Although I had been working as a police officer in the licensing division, there were a few surprises installed as a publican," he said.
"There is a lot more involved than standing behind the bar and serving beers."
Long hours, business management and supporting the local sporting community were some of the challenges that confronted Mick.
With his business partners, Mick has breathed new life into the Cabbage Tree, undertaking major renovations, including a new auditorium and restaurant.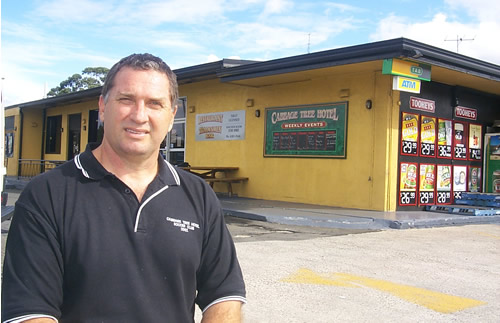 Mick Hanley Mick Hanley at the recently renovated Cabbage Tree Hotel Fairy Meadow
The Hanley tradition of pubs has entered yet another generation with Mick's 18-year-old son Peter now working at the pub.
Is Mick grooming his eldest to continue the Hanley tradition?
"He's his own man. He has a lot of living to do before taking on a pub of his own," Mick said.
The Cabbage Tree Hotel is located on the Princes Highway at Fairy Meadow, north of Wollongong. The suburb has two pubs, with the Charles Hotel a little further north along the highway from the Cabbage Tree. Both pubs are worth a visit and have lunch time menus.
ooOOoo
Mick Roberts is a journalist and hotel historian. He has had two books, The Little House on the Hill and The Local, published on the liquor industry and, besides other local history publications, is presently working on a comprehensive history of the liquor industry and hotels in the Illawarra region of NSW. His regular history feature, Looking Back, can be read in the Northern Leader newspaper distributed throughout the northern suburbs of Wollongong NSW. These feature articles also appear at his Looking Back website www.slackycreek.fcpages.com

Mick is always on the lookout for pub yarns, stories, information and old photos and can be contacted by email at slackyflat@hotmail.com or PO BOX 5148 Wollongong 2500.

Take a break from drinking like the author of this article did - Read why and how in his book Between Drinks: Escape the Routine, Take Control and Join the Clear Thinkers