The Brewery, Queens Wharf, Newcastle
Having been left pondering the old man's musings in the Great Northern, we decided to head closer to the water. After all, like most Australian towns, Newcastle is by the sea. We had heard of a pub by the water that brewed its own beer, and even ginger beer, that sounded perfect. But not knowing the area, we had to ask a young darling at the bar. She had a delightful smile, and was a little giddy on her feet as she pointed out a landmark to head towards.
It was with some reluctance that we did.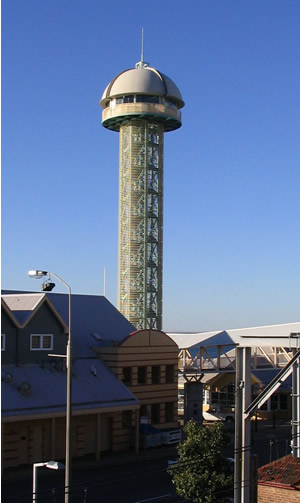 The big bloody pole marks the spot
It was a beautiful day. The sea was calm and blue. The pub - the Queens Wharf Brewery it was called - had a location to die for. Right next to the water, patrons could sit in the sun and enjoy each other's company along with icy cold beer all arvo if they wanted to. And why wouldn't they.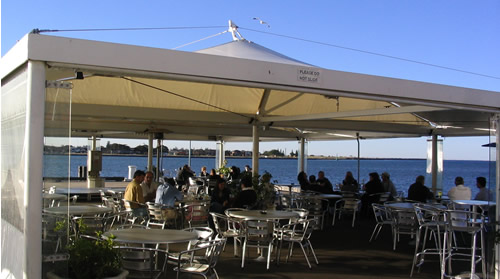 Brewery Patrons enjoying their beers by the water
Before we sat down, however, we wandered up to the bar with great expectations. The pub was called the Brewery after all. What exactly did it brew? Well, nothing as is turns out. Nothing any more. In fact, the place seemed to be going through a bit of a transition - there were workers everywhere, doing something out the back in the kitchen. The brew vats were apparently sitting out there unused.
Then why were there all these new beers on tap?
We asked the beautiful barmaid what was going on. She didn't know - it was her first day on the job. She told us to wait though, and within a sec another employee had come out from around the back, and, before we knew it, he had shouted us a beer - a Bluetounge Premium Lager no less - and was telling us all about it.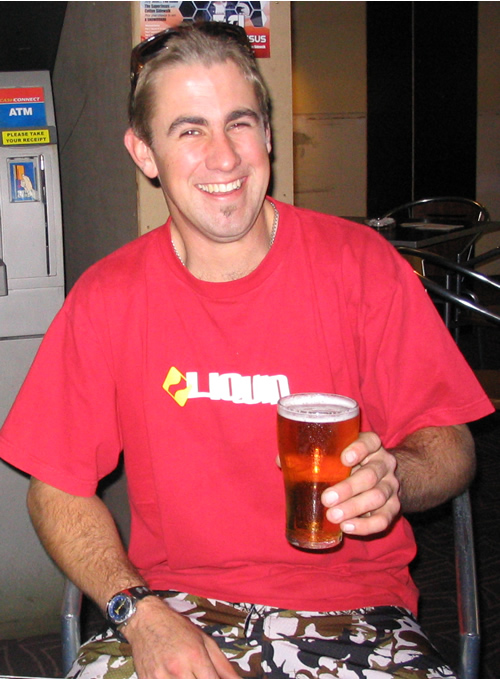 The friendly employee
Basically the place used to brew its own beer, but it didn't any more.
"Then where do these beers come from?", we demanded, before taking a first gulp of our schooner.
"We haven't seen them before", we said again a moment later, as we took another gulp.
He started to explain just as our brain was catching up with our gulps. A boutique lager. Highly drinkable. A light appearance.
Shades of the bitterness of Hahn Premium.
"Sorry", we said, as we took another gulp for good measure. "What was that mate?"
He could see we were only half paying attention, and gave us the short version. The place used to brew beer, but nowadays their special beers are brewed by Bluetongue Brewery - a local brewery, run in part by some of the people who ran the Brewery pub. Their two main beers were the Premium Lager, which we were drinking, and the famous Ginger Beer - which we were about to drink.
Excellent, we thought, as we finished the lager. "We'll have to meet the people behind these beers", we announced.
"No worries - I'll get something sorted", was the reply. But we couldn't wait till then. We had to grab a Ginger Beer, which we did with the assistance of another friendly staff member.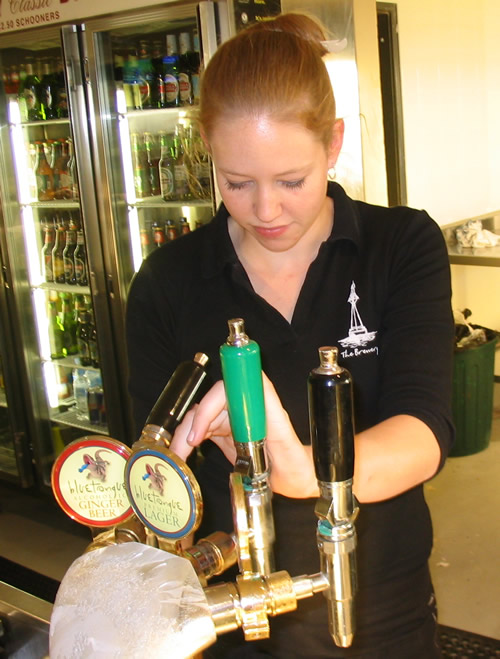 Ginger Beer thanks love!
With the highly drinkable Ginger Beer in hand we were shortly joined by two chefs (one of whom wore a funny french looking cap) and a painter who had been putting in the hard yards out the back. The pub was obviously a favourite with the locals, who, like the off duty employees, seemed a friendly bunch. Life in Newcastle can be hard - it's depressed economically and has been, well, forever. What's more, land prices have been pushed up to ridiculous levels by the big bad Sydneysiders, who, along with the baby boomers, seem intent on latter generations being condemned to a medieval life of renting. But the Aussies in the Brewery that night didn't didn't seem too bothered by such things. They drank their locally brewed beers. They laughed and sang and enjoyed their sea.
It was their time. And life was good.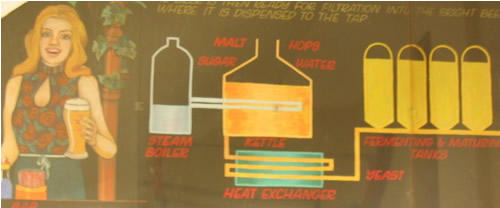 From Vats to Barmaid - The way it was at the Brewery...
Take a break from drinking like the author of this article did - Read why and how in his book Between Drinks: Escape the Routine, Take Control and Join the Clear Thinkers