Alan Bond
He was our national hero, an entrepreneur who strutted the world stage, who mesmerised all with that Grand Canyon of a smile.... Medical experts were procured to testify that Bond was a brain-dead ignoramus who could not take the stand.... A couple of days before he was released after less than four years' jail for a fraud involving $1.2 billion, a Northern Territory man was sentenced to one year's jail for stealing $23 worth of cordial and biscuits. Had the same formula been applied to Bond, he would have been in jail for 50 million years.
Sydney Morning Herald, October 7, 2000.
Bondie as he is affectionately known in Australia is one of the country's most colourful entrepreneurs. He began his business career as a sign-writer, made a small fortune on property deals and then became one of the foremost Australian corporate raiders of the extravagant 1980s - a time of financial deregulation and easy credit.
Bond's connection with the beer history of Australia began in 1981 when he acquired Swan Brewing for A$164 million.

The Boxing Kangaroo - the flag that symbolises Australia's Victory
In 1983 he became a national hero by winning the America's Cup for Australia with the majestic 12-metre yacht Australia II – skippered by John Bertrand and designed by Ben Lexen. Australia went wild with patriotism and national fervour like never before. It was a national awakening of a sort. The Prime Minister, Bob Hawke, was in the midst of it all and captured the mood of the moment by stating that: "Any employer who sacks a worker for not coming in today is a bum."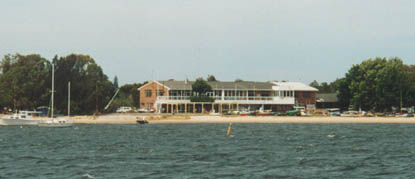 Home of the America's Cup in 1983 - Freemantle Yacht Club
Two years later Bond Corporation acquired the giant Castlemaine Tooheys an asset rich company that had little debt. The price tag was a cool A$1200million and its purchase was Australia's largest corporate takeover to date. Not a bad effort considering that Bond Corporation was itself valued at only A$300million at the time. The A$1.2 billion brought Bond control of half of Australia's beer market – virtually all of Western Australia, Queensland and New South Wales.
After taking over Brisbane's Castlemaine brewery, Bond Corporation took an incredible step – the XXXX sign on the Milton brewery was replaced with a Bond Corporation one. To make matters worse, the beer labels underwent a similar facelift and even included a reference to Western Australia. This was too much for Queenslanders who were traditionally extremely loyal to their brand. A call went out and protests began. The Bond Corporation saw that it had nothing to win and a lot to lose – consequently Queensland's pride was promptly restored. In fact, maybe to restore some goodwill, Bond purchased a magnificent yacht and renamed it XXXX in honour of Queensland's brew.
The relationship between Bond Corporation and Queensland beer drinkers got off to a bad start, and the start of the relationship with its Queensland hoteliers was also far from a honeymoon. Bond Corporation cut the payment period for beer from 30 to 7 days which was a major blow to the publicans who operated on tight budgets. It prompted one of them, Bernie Power, to begin brewing his own beer. In this tide of discontent, "Powers" beer took off remarkably well. Within 2 years it had clawed out 10% of the Queensland market!
However, the relationship of Bond Corporation with the lessees of its Tooheys pubs in New South Wales became the major drama. The Bond Corporation wanted to allow the leases to expire without offering to renew them or paying the lessees anything for goodwill – this was a departure from previous Tooheys practice. The plan was to then sell the hotels for a quick return. The lessees, many of whom had their life savings invested in their pubs, were understandably upset. The lessees formed an action group and dug in refusing to be evicted. A bitter court battle ensued. The lessees won – although the documents stated that they were not entitled to compensation, in all the circumstances they were found to be entitled to it. [See case - judgment handed down in August 1997]. Bond Corporation lost not only the case but also a significant number of drinkers as well. Tooheys sales fell by 20% from 60% of the market in 1985 to 40% by 1989.
In the early 1990s the Bond empire began to collapse as the bankers began to call in the huge loans which could not be serviced by the cashflows of the numerous Bond companies. In January 1990 the breweries were placed in the hands of receivers who managed them on behalf of the creditors. In September 1990 they were sold to the New Zealand company, Lion-Nathan.
In 1987 Bond shook the world by purchasing Van Gogh's Blue Irises for an incredible US$49 million – just 3 three weeks after the October 1987 stockmarket crash. The painting would later become his undoing. He was charged with selling the painting and diverting the money to a personal company when in fact the painting was the property of a publicly listed company. Bondie was sent to the slammer for three years is now out and about and appears to have made a full recovery from his brain damage.
Whether you think of Bondie as a criminal or national hero (and the two are not necessarily mutually exclusive – take Ned Kelly as an example) – there is no doubt that Bondie was one the country's most memorable businessmen. For better or worse, he changed the landscape of the Australian beer business. And who can tell, maybe he will be a force in Australian brewing again.
Take a break from drinking like the author of this article did - Read why and how in his book Between Drinks: Escape the Routine, Take Control and Join the Clear Thinkers