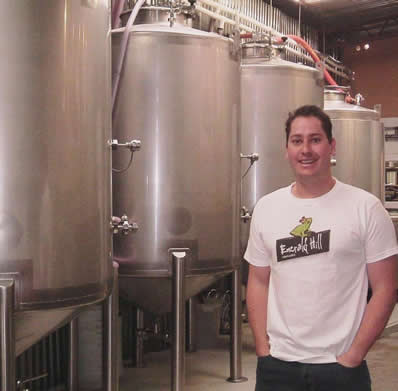 Carl showing us his brewery
AustralianBeers.com recently paid a visit to one of the latest arrivals on the Australian beer scene, Emerald Hill Brewery. Head brewer Carl welcomed us into Melbourne's newest microbrewery to sample his classic German-style wheat beer and his impressive pale ale, and to chat about all things beer.
Emerald Hill Brewery is located in the heart of inner-urban South Melbourne. A real city brewery, the way it should be. No bucolic wine region setting for these guys, just concrete, steel and beer. And it's a working brewery with a welcome twist: a bar nestling alongside the fermenters which opens to the public every Friday night. A great way to experience both the means of production and the product itself.
Q: Give us the rundown on your wheat beer. It has a strong German slant. How did you decide on the precise style?
A: Our wheat beer is a Hefeweizen loosely based on some of the Bavarian wheat beers which I got a taste for when I spent quite a bit of time in Munich a few years ago. The recipes were developed over a number of years of brewing to get the malt profile we were looking for, and then we made 9 batches in similar conditions with slight variations to the hops, and then tested out the effect of different yeast strains. We then invited about 30 mates over to my house and got them to rank all 9 beers in terms of flavour, aroma, taste and appearance. Of course, there's been some tinkering with the recipes but the feedback from the group helped validate our brewing decisions.
Q: Your pale ale is a bit of a surprise – we were expecting a copper coloured drop but this is much more in the Coopers vein (and all the more "Aussie" for it, we' d like to think). What's the background to this one?
A: Our Pale has been made to a flavour profile that we developed over a couple of years. It's unfiltered and uses some English hops, but we're not trying to make a traditional English Pale Ale. I know that Aussies will drink it cold, hence I wanted to make sure the hop bitterness and aromas were balanced at cooler temperatures. The exciting thing about the microbrewery scene is that you can taste 30 different Pale Ales and they all have the brewers unique stamp on them.
Q: What are the immediate plans for Emerald Hill? When can we see your beers in shops and pubs? Any hope for us poor souls outside Melbourne?
A: As we're still quite new in the market, our main aim right now is getting our name and our beers known around the place. Having beer on the shelves definitely helps – it's not far off, our six-pack carriers arrived today, and the cartons are on their way, so we're hoping to have product on the shelves before the end of November. We'll make sure there's a way of getting beer out of inner Melbourne as well, as we've had a lot of enquiries so far. All the details will be on our website (www.emeraldhillbrewery.com.au), so once we're in the shops we'll send a note around to our mailing list as well.
Q: You are clearly a man of many talents. In addition to your chemical engineering background and your obvious brewing skills, you have told us that you even drafted the shareholders agreement for your funding consortium. Tell us a bit about how you made the brewery a reality. What were the biggest hurdles?
A: Starting a microbrewery has been something I've wanted to do for quite a few years, so finally being able to turn it into a reality has been fantastic – but not without an amazing amount of hard work.
The toughest part was making the decision to leave my full-time job so I could focus on the background research on how to get a brewery started. Even getting a small brewery up and running costs a fortune, so I had to make sure the other owners were from various backgrounds and could bring their expertise into the business – such as engineering, marketing, accounting – as well as some elbow grease.
The biggest hurdles were capital raising, the amount of licences required and creating and building everything from scratch – from the premises to the beer and the brand. Being a very small business, there simply isn't the option to pay people to do everything, so everything falls into my lap, and I get as much help as I possible from the other owners, family and friends. But I'm now much more familiar with the various Acts, as well as having learnt things such as website programming and small business accounting. It's been a hectic 18 months and a huge learning curve.
During the day I was working on areas like licensing, procurement, developing the brand and designing the brewing equipment. Then after normal business hours finished, my mates would come over after work with a boot full of tools and we'd work on the fit-out and design of the brewery until we ran out of energy (or construction materials). It was pretty full on for about 8 months, but we had a great time and we're all proud of the end result.
After all, it's not everyday that you get to build a micro-brewery.
Q: Where do you source your raw materials? Has it been hard to find suppliers?
A: All our malt is sourced locally, the water is filtered and sterilised Melbourne water, some hops are local, some sourced from the UK, and our yeast comes from the US. The hardest part was finding some of the more specialised bits and pieces, but luckily I have a lot of engineering mates, who can usually point you in the right direction. And sourcing the packaging has taken longer than I thought it would, but we're getting very close now. The only downside of having lots of engineers is that none of us know anything about marketing or sales, but I'm hoping the beer will sell itself.

Q: An inner city craft brewery with a public bar is something of a rarity in our experience. Any plans to expand the bar side of the business? A South Melbourne version of Fremantle's Little Creatures, perhaps?
We definitely wanted to set up in the city so the bar was easy to get to, as well as being central so we can provide good service to bottle shops and restaurants. We decided to open on Friday's only so that we can leave the other nights free for functions, but there's also the fact that the brewery needs to be functional as well, and it's a bit small to have a lot of people here if we're in the middle of brewing…. I guess it's more usual for people to put a brewery into a bar than the other way around. As for the plan to expand, we're focussing on getting our beer on the shelves first… perhaps down the track we might be able to afford somewhere with a nice view over the Yarra, but at this stage it's not really on the radar.
Q: There seems to be a broader enthusiasm for craft beers in Victoria than in AB.com's traditional stamping grounds of NSW and QLD. Why do you think that is? Do you think more relaxed licensing laws help small brewers get their product to market more easily?
Melbourne's reputation for food and wine is well established, so people are used to quality products. Melburnian's also like to seek out things which are out of the mainstream a bit - the changes to licensing laws brought a huge change to Melbourne's nightlife, with heaps of little bars opening up around the city and inner suburbs. And small independent bars are more likely to serve beers they like as they don't sell enough to receive volume rebates from the mainstreams brewers…. But it's also a climate thing in Brisbane, ice cold lagers taste a lot better when the weather is hot - I can't imagine a stout would sell so well up there.
Q: More generally, what's your take on the craft brewing industry in Australia at the moment? Where do you see us in 10 years?
There's no doubt it's going to grow in the short term, and pubs and restaurants seem to be embracing the new beers on the market - hopefully in ten years people will start taking hand crafted and cellared beer to dinner parties instead of wine, chefs will routinely use beer as an ingredient. If Excise is reduced for microbreweries it would make an enormous difference - the microbrewery market share in Australia is miniscule compared to the situation in the US, where the microbrewery scene is huge. I don't know if most drinkers realise they're paying a couple of dollars of taxes on every pint they drink…
Q: What's your favourite beer when you're not drinking Emerald Hill? Do you have any brewing "heroes"?
Schneider Weisse is one of my all time favourites, but whenever I'm out and about I'll go for whatever microbrewery beer is available. As for heroes, I have to admire the German monks who fast for months, only drinking especially strong beers (Lenten Beers) during lent - must be easier to fast when you're drinking liquid bread every day…… The beer culture is ingrained over there, with most breweries at least a couple of centuries old, beer festivals occur on most weekends and breakfast beers are specially made a lot of breweries (they're lighter in alcohol to go with your bacon and eggs in the morning!). One of my favourite memories was drinking with an 85 year old woman at the Andechs Kloster brewery, who finished her mass (1 litre beer) then wiped the remaining drops of beer out of it with her handkerchief before putting it into her handbag…
Q: And finally, you' re only a young feller. Most of our readers will be deeply jealous. How does it feel to be living the dream?
To be honest, it's hard work and there's always something else to do, but I've got some great people on board who will help out in anyway that they can. Occasionally it all seems a bit surreal, and I'm eternally grateful for the people who supported me in following my dream, despite having never worked in a brewery before! I must admit though, it's a fantastic feeling when you have two blokes in your bar arguing over which of your beers is better…..
AustralianBeers.com would like to thank Carl for having a go and shouting our roving reporter Stephen a few ripper cold ones. Why not support your local micro and buy a few Emerald Hill beers when they finally hit the shelf.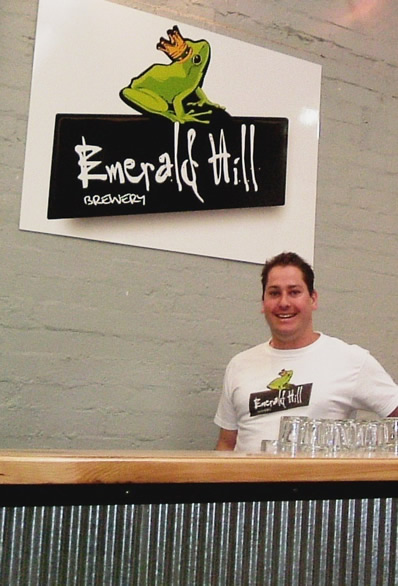 Pint of pale thanks Carl!