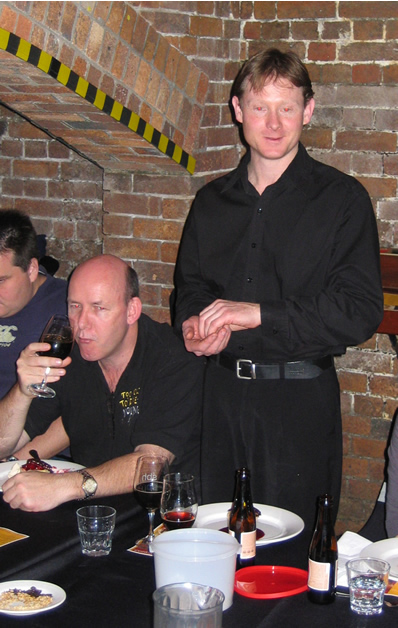 Dave sharing his passion
Q. David, how does it feel to be considered by the Australian International Beer Awards (the second largest beer competition of its type in the world) to have brewed the Grand Champion Beer - the best out of all 974 submitted? Did you ever think you would be in this position?
A. It's pretty amazing and I do have to pinch myself every now and again. If someone had asked me what one of my ambitions in life were, I would have said it was to win a Champion Class Beer in the next few years. I hadn't really thought about the possibility of winning the Grand Champion. Although Janet had - because she wants more taps for more beers at the Café (and the Grand Champion trophy is a working two tap beer font!)
Q. How is your Special Reserve made? Is it available outside of your cafe? How do we get our hands on it?
A. The Special Reserve, a wood aged barley wine is a dark English ale taken through a complex fermentation process with final conditioning and maturation in various types of oak over a few years. This creates a 'liqueur-like' beer with complex alcohol and oak aromas, a sweet light malt flavour with hints of vanilla and exotic flavours and aromas that will keep most people swirling and smelling it before they realise they have not even tasted it yet! We actually serve it in a cognac glass and it is typically enjoyed after a meal, much like a brandy or cognac.
At this stage, it's only available to purchase by the glass in the café for $15 a glass. We are reluctant to sell it by the bottle just yet as we are not sure customers are ready to pay $75 for a bottle of beer - even though one of the international judges did call it 'The Grange Hermitage of beer".
Q. We were listening to one brewer the other week who claimed you had submitted 35 different beers in the awards, and he had no idea how you managed to brew so many styles, when most breweries the size of Redoak struggle with one or two. Why do you brew so many styles? How can you be so prolific? Do you brew everything yourself?
It is true! We are extremely proud of our achievement in that we have brewed over 32 award-winning beers which is pretty much unheard of for an independent brewery. What is more amazing is that most of these beers can only be entered into one category because they are specialty beers. We generally brew over 40 different beers throughout the year.
How do we do it? With lots of patience, you have got to be organised, have sheer determination and absolutely love the science and art of brewing. I have spent many years experimenting with beer styles, learning from mistakes and refining the brewing process. I do all of our own brewing and our recipes are closely guarded.
Why do we do it? Redoak wants to challenge people's idea and expectations of beer. We want to encourage people to appreciate quality hand-crafted beer and to also explore different beer styles recognising that individual tastes vary considerably. There are still so many more beers out there that have not yet surfaced. We like to push the boundaries particularly with specialty beers - it is our point of difference. We also like to use beer styles to reflect seasons, particular events and as we integrate beer into our restaurant some beers work better with particular foods, etc.

Q. Obviously setting up and running the the Redoak Cafe would have required a lot of start up capital. How did you raise this? And, as the past has demonstrated, brewing quality beer does not necessarily translate to staying in business - how are things going from a business point of view?
A. Like Bill Taylor once said to us "Over-night successes are great aren't they, and then you find out someone has spent 15 years creating it!" I began dreaming of Redoak 14 years ago, seriously brewing beer for the past 10 years and working on the Café for the past 4 years and have been saving furiously for years. Watching our customers come into the Café and appreciate boutique beers for 2 years now, then I know we are moving in the right direction. People are realising beer is and can be so much more interesting than they previously thought, and they are now appreciating that a good quality beer takes time and costs money. We do find it frustrating when people comment on our prices yet they will happily pay $8 for a Crown Lager or pay $100 for a five star dinner at a function and not even know what beer they're drinking. Redoak customers realise that Redoak beer is all about quality and taste.
Q. Why did you decide to focus on a beer café, rather than brewing and distributing your beer on tap and in bottle shops? Will you be looking at ramping up production and distribution in the future, or will the focus remain on the café?
A. We developed our own Café so we could showcase our own beers; to showcase beer to Australians; to demonstrate how to appreciate it; how to dine with it and how diverse beer can be. We have production capacity and would love to distribute our beers, and we are working hard to do this. However, a duopoly industry does create particular issues and difficulties as other independent breweries would know.
Q. Many of your beer styles are just not brewed by other Australian brewers as far as we can tell. Your signature beer is Framboise Froment, for example. How has the public reacted to these unusual (at least in these parts) styles? Are the berry based beers more popular with the ladies?
A. We like to pride ourselves on our range of specialty beers and want to push the boundaries for beer so we are always looking for new beer styles. It is really interesting to watch people taste some of our more unusual beers for the first time. The odd person may not like it at all but 95% of people are usually blown away by the beer. We make a point of spending time with our customers (male and female) to understand which beers they will enjoy. It is fascinating in that the Framboise is enjoyed as much by guys, as ladies.
Q. Can you tell us about Janet's role at Redoak? You mention on your website that you had to convert her from an avid champagne drinker. Is the transition complete? Does she get stuck into the Special Reserve after hours? What's her favourite beer?
A. When Janet first tasted my Framboise Froment she thought I had opened a bottle of a new rosé champagne! She was blown away by that first sip, did a few trips with me to Europe & USA researching beer and the brewing industry and has been on board ever since. Janet is passionate about Redoak and is an integral part of the business, its management, development and marketing. Basically, she manages the Café and imparts her love and passion for the beer at the café to our customers while I focus on the brewery.
I'm not sure she has moved across to beer entirely because she will still drink champagne if she can't buy a Redoak. (She generally avoids wine because of the preservatives in it). Janet doesn't have a favourite Redoak beer as she enjoys different beers for different moods, occasions, etc. Having said that she does love to indulge in the Special Reserve and savour the Grand Champion!

Q. We have heard rumours that Redoak has released a cask conditioned English style bitter. Could you tell us about its development. We understand there is a lot of skill involved in maintaining the cask. How long is it conditioned in the cask for? Is it true the beer is flat? Why is this? What happens to the CO2 produced during the conditioning?
A. It's not a rumour, it's a fact. We hope it will become so popular that we can open a cask every week, but for now it is opened on the first and third Monday of every month.
The cask is brewed traditionally with the ale racked off into the cask before the end of fermentation with the final part of fermentation in the cask. It is conditioned for a period of time before it is taken to Redoak.
We like to spear the cask and naturally vent it, allowing the beer to breathe and slowly oxidise, which imparts a nice sourness that is traditional to old cask conditioned real ales. It is then hand pumped with an English hand pump and served at 11 to 12 degrees Celsius, giving the customer the opportunity to taste the natural malt flavours, low carbonation and fresh hop aroma.

Q. Finally, any regrets in transforming from engineer to brewer? Is living the dream all it is cracked up to be? What does the future hold for Redoak and its beers?
You probably need to ask my wife these questions. From my perspective, I have no regrets, but I would say it's a lot of hard work. We certainly didn't come into the industry blind but even when you think you have allowed for all variables, doubled and tripled issues/problems/costs etc, you still have underestimated! Are we living a dream you ask - well if working 90 hours a week is a dream, then yep we are and certainly enjoying it and we really appreciate that beer at the end of each hard day's work. It does help to be passionate about Redoak and believe in what you do.
We are looking forward to developing new beers, brewing and selling more beer. Our one goal is to give all Australians the opportunity to experience and enjoy a Redoak beer!

AustralianBeers.com would like to thank David and Janet for working so hard to make such excellent quality beers available to Australians. You should do yourself a favour and demand your local bottleshop stock Redoak beer. Start by ordering a delicious Bock (below), or another beer you can spot on www.redoak.com.au. You can also order directly from that site by faxing an order in.
Of course if you are ever in Sydney then you must visit the Redoak Café at 201 Clarence Street in the CBD. It is beer lover heaven, and there is nowhere like it anywhere else in Australia. Hell, these days you could fly to Sydney for a weekend just to get the chance to enjoy the full Redoak range.
Just make sure you ask for the Baltic Porter that Dave keeps behind the counter for those in the know...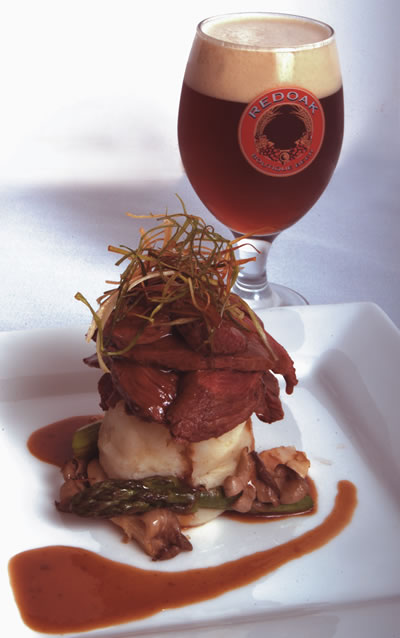 Redoak Bock