Emu Draft
Draught or Draft?

Emu Draft is a midstrength beer from the Swan brewing Company that even they sometimes misspell. The beer has been around since 1992 and brewed using a malt that gives the beer distinctive rich amber colour. Being a midstrength brew it doesn't not have as much body as many other brews from the Swan stable, but then again you can't get something for nothing.
The beer is a mild tasting brew with a distinct astringent effervescence thanks to Humulus Lupulus, hops. This a well mannered beer for those of us who need to watch the alcohol content or just want a refreshing beer quench without the heady return. Make sure you serve this one icy cold. 3.5% alc/vol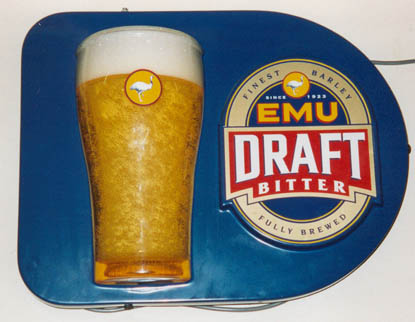 Emu Draft, Staple of Western Australia
Food For Thought:
Emu Draft is another beer that will serve you best when combining it with lighter flavoured dishes. try it with white meats such as chicken, pork or even crocodile. Emu Draft also combines well with lightly spiced Italian cuisine such as veal dishes and lightly sauced pasta. Like most midstrengths, Emu Draft will serve you best at the beginning of the meal when the light dishes are serves and from there you can move onto to the heavier brews. When served ice cold on a thirsty day this beer will barely touch the sides.
Take a break from drinking like the author of this article did - Read why and how in his book Between Drinks: Escape the Routine, Take Control and Join the Clear Thinkers