Emu Bitter
You're a bitter man, Ken Arrowsmith

Emu Bitter introduced in 1923 is one of the Swan Brewing Companies flagship brews from the nation's largest state. The popular Western Australian is a golden mainstream brew that is rich in hops aroma and bitterness. Like most popular mainstream beers, Emu Bitter is extremely drinkable with subtle flavours that don't overpower the palate.
Living on the bitter extreme of the beer spectrum this brew has a light body and a dry finish that you can feel at the the back of the tongue due to a high level hops. Like most Australian mainstream beers, Emu Bitter is a lager that will tend to be enjoyed for more its refreshing quench than for its table manners. When you want a beer without baggage be sure to consider Emu Bitter, mild, hoppy, bitter with a dry astringent finish...yum. 4.6 %alc/vol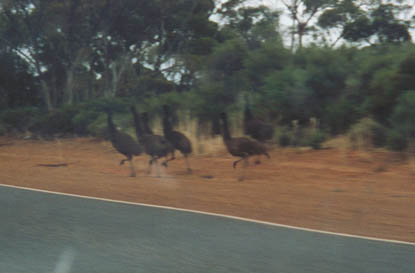 The Beer's Name-Sake, Outback Western Australia
Food For Thought:
Emu being a popularist mainstream beer will see it enjoyed mostly for its drink-ability than an association with a culinary compatibility. This is not to say that it cannot grace the dinner table as an ideal accompaniment to light flavours such as fried foods and seafood. Try Emu with lamb and pork dishes with medium flavoured sauces like marsala and diane. Like a lot of Aussie lagers Emu will go with spicy asian dishes well, such as Indian curries and hot Thai salads. Nevertheless there is nothing like an icy Emu on hot dry day to clear the cobwebs.
Take a break from drinking like the author of this article did - Read why and how in his book Between Drinks: Escape the Routine, Take Control and Join the Clear Thinkers