Crown Lager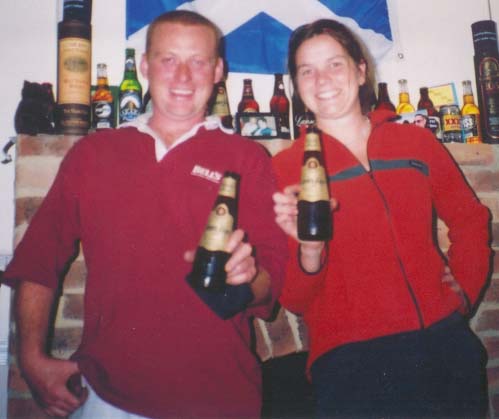 King of Beers in Sydney, Australia
[Big] Kev the man - born Kevin Robert McQuay in 1950 - had failed to appear in court to face a drink-driving charge, his second in four years. His lawyer had a good excuse. Kev was laid up in hospital while doctors decided whether or not to amputate his right leg. Kev, who then weighed 146 kilos, had contracted septicaemia after stubbing his toe at a company-sponsored car race in New Zealand. "I didn't think much of it until the next night when I got halfway through a Crownie and couldn't finish it," Kev later told the Gold Coast Bulletin, which chronicles his every breath. "A panic set in because I knew something was drastically wrong."

Life's tough but Big Kev's still excited, Sydney Morning Herald, June 8 2002
The premium beer market has led the resurgence in the brewing industry in Australia over the past three years. This recovery has been largely led by two of the country's premium beers – Carlton Crown Lager and Hahn Premium. It will be interesting to follow the path of Hahn Premium over the following years as unlike Crown Lager, the beer has not been long in the market.
Crown Lager was named in honour of Queen Elizabeth II and was originally sold as an acceptable alternative to drinking wine in restaurants. It remains the leading premium beer in the country accounting for 33% of the premium beer market. Although premium beers still only account for 6% of Australia's total beer consumption, this figure still represents a significant income for the Australian brewers who produce the 1.8 billion litres of beer consumed in the country each year. And as the margins on premium beers are significantly higher than the mass market brands Carlton Crown Lager is an important beer to Carton United Breweries (CUB).
In the premium beer market, it is image not price which appears to be the driving factor and in terms of class, Crown Lager lives up to all expectations. The beer is packaged in sleek elegant bottles which are graced with gold reflective labels. Although cartons of Crown Lager sell for upwards of $40, the beer is also popular in a six pack and can be found in all bottle shops across the country.
Unlike many of the brewers, CUB remain somewhat secretive of the way they brew their beers. CUB say that Crown Lager is based on the finest malt, sugar and hops, using CUB's original and unique strain of brewing yeast.
It is also interesting to note that the product has little formal promotion and relies mainly on word of mouth as the primary source of advertising. Cinema advertising is also occasionally used to promote the product.
But underneath all the hype, packaging and marketing, how does it taste?
Crown has an initial fruity flavour followed by a rich malty flavour, followed by a crisp hop finish.
Crown Lager is best served with rich flavoursome foods such as red meats, heavy casseroles; veal and lamb dishes with strong brown sauces; the stronger flavoured Mediterranean dishes and most kinds of strong Asian foods as seen in Indian and Chinese cuisine (however if dining with strong chillis and vinegar flavour as in Thai cuisine, slightly sweeter beers may be a better match).
.
Take a break from drinking like the author of this article did - Read why and how in his book Between Drinks: Escape the Routine, Take Control and Join the Clear Thinkers